UEFA stands by Baku as Euro 2020 host city
UEFA has insisted that there are no concerns with Baku as a Euro 2020 host city despite the issues surrounding Wednesday's Europa League final between Arsenal and Chelsea.
European football's governing body told ESPN FC in a short statement that the transport problems for supporters of the two Premier League clubs will have no bearing on its standing for Euro 2020, when it will host three group games and a quarterfinal.
Arsenal midfielder Henrikh Mkhitaryan, an Armenian, has not made the trip to Baku for reasons of personal safety, in relation to political tensions between the two countries, although Azerbaijan's FA insisted it "provided all the necessary guarantees required by UEFA to ensure the personal safety of Mr Mkhitaryan."
Mkhitaryan missed previous trips to Azerbaijan with both Arsenal and Borussia Dortmund, although BVB CEO Hans-Joachim Watzke suggested his club might have made a different decision for a knockout match.
Only 6,000 tickets have been allocated to the fans of Arsenal and Chelsea for the final, played in the 68,700-capacity Olympic Stadium in Azerbaijan's capital Baku. But it has proved so difficult for fans to make the 2,850-mile trip to Azerbaijan from London that thousands of those tickets have been returned to UEFA.
- When is the Europa League final?
- The Road to Baku: Fans' long haul to Europa final
- Who qualifies for Europe from the Premier League?
UEFA argued that it would be "utterly unfair to exclude certain venues just based on their decentralised geographical position," while also admitting a maximum of 15,000 supporters and officials are able to actually get to Baku.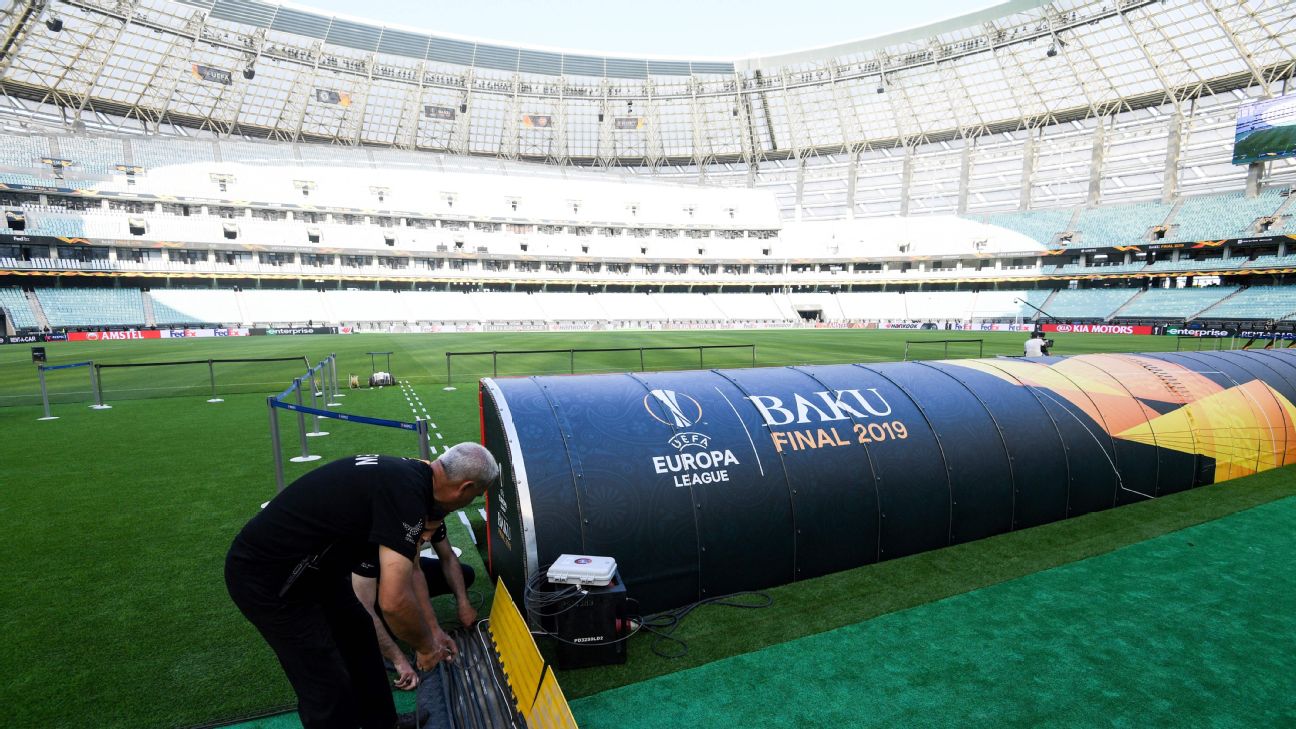 Supporters of the teams participating in the Euro 2020 quarterfinals on July 4 will have to make the trip from either Amsterdam or Budapest and will have just under a week to make travel arrangements.
With the situation unlikely to change over the next year, UEFA has refused to confirm the ticket allocation for nations playing in Baku next summer.
"This quota will be communicated at a later stage," UEFA told ESPN FC.