Euro 2020 qualifying: Who will reach the finals?
Euro 2020 kicks off in June next year and 20 of the 24 places at the tournament will be secured this month. Here is a look at the latest qualifying permutations and scenarios.
- Stream Euro 2020 qualifiers (live and replay) on ESPN+
- Qualifying tables | Upcoming fixtures
The top two teams (20 in total) in each group qualify automatically. Four more nations will qualify via playoffs, qualification for which is based on UEFA Nations League performance.
Six nations sealed their place before the November qualifiers.
QUALIFIED FOR FINALS
Belgium
Italy
Poland
Russia
Spain
Ukraine
JUMP TO: Who will take part in the playoffs? | Finals draw seeds and pots
Nov. 14: England vs. Montenegro, Czech Republic vs. Kosovo
Nov. 17: Bulgaria vs. Czech Republic, Kosovo vs. England
England need a point at home to Montenegro, and even if they were to lose at Wembley they would get over the line as long as Czech Republic vs. Kosovo is not a draw.
Czech Republic can qualify with a win at home to Kosovo, who need a victory in the game to have the best chance of qualifying. If Kosovo manage that, a point at home to England in their final qualifier would guarantee them a place at the finals. Kosovo do have a League D playoff, should they require it.
Nov. 14: Portugal vs. Lithuania, Serbia vs. Luxembourg
Nov. 17: Luxembourg vs. Portugal, Serbia vs. Ukraine
Ukraine have qualified, and Portugal will be sure of joining them if they win at home to Lithuania and in Luxembourg, so that means they are firm favourites. Portugal can also qualify on Nov. 14 if they beat Lithuania and Serbia fail to win against Luxembourg.
Serbia must win at home to Luxembourg and Ukraine, plus hope Portugal fail to win one of their games, which appears unlikely. Serbia are guaranteed a playoff if they finish outside the top two.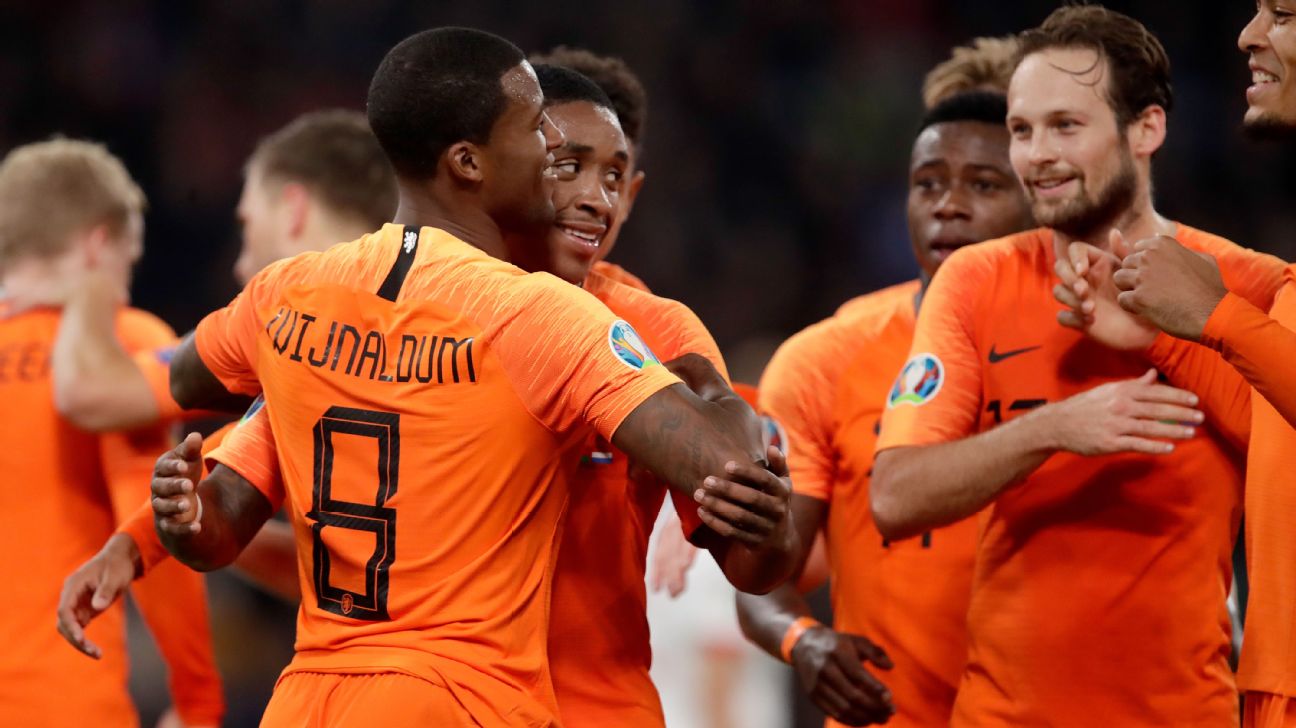 Nov. 16: Germany vs. Belarus, Northern Ireland vs. Netherlands
Nov. 19: Germany vs. Northern Ireland, Netherlands vs. Estonia
Netherlands will qualify for the finals if they avoid defeat in Northern Ireland on Nov. 16. Even if the Dutch suffer a defeat, leaving the two nations level on points, they would remain favourites with Estonia to play at home while the Irish travel to Germany.
Germany are level with the the Dutch on 15 points, but second on head to head. They will qualify if they win at home to Belarus next time, and Northern Ireland do not win. A point would also see them to the finals if the Irish are beaten.
Northern Ireland are three points behind but all 12 have come against the group's lesser lights. To have a chance of qualifying automatically, Northern Ireland will now surely have to win at home to Netherlands and in Germany, and hope one of their rivals drop surprise points.
There is an unlikely scenario where all three nations finish on 18 points, which means it would come down to head-to-head goal difference as each team would have beaten each other once and lost once.
Nov. 15: Denmark vs. Gibraltar, Switzerland vs. Georgia
Nov. 18: Republic of Ireland vs. Denmark, Gibraltar vs. Switzerland
Republic of Ireland remain on top of the group from Denmark on head to head. They only have one qualifier remaining, at home to the Danes, and are guaranteed to qualify with a win as long as Switzerland do not draw one of their two remaining games.
If Switzerland do draw a game (and win the other), and Denmark beat Gibraltar, the three teams will finish on 15 points and they will also be level in the head-to-head mini-league, meaning it comes down to goal difference in games between the three teams. In this scenario, Ireland will have to win by two goals to qualify at Denmark's expense; Switzerland would be guaranteed to qualify.
If Denmark get at least a point against Gibraltar, they would be then assured qualification with a point in Dublin. They cannot qualify if they lose to Ireland and Switzerland win both matches.
Although Switzerland sit outside the top two, they are now firm favourites to qualify. They are sure to go through with four points from games against Gibraltar and Georgia. Their injury-time second goal against Ireland means they no longer have to win both matches.
Denmark and Switzerland are both sure of a playoff, should they need it.
Nov. 16: Azerbaijan vs. Wales, Croatia vs. Slovakia
Nov. 19: Slovakia vs. Azerbaijan, Wales vs. Hungary
Croatia lead on 14 points, and will be guaranteed qualification if they at least draw at home to Slovakia on Nov. 16 -- their final qualifier.
Second place is held by Hungary on 12 points, and they too have only one match remaining, away in Wales. If Slovakia fail to beat Croatia, Hungary would be guaranteed to qualify with a win in Cardiff.
Slovakia sit third on 10 points, and while they face the difficult trip to Croatia, the final fixture is at home to Azerbaijan, who have only one point. Win both games and they will qualify. If Slovakia do not win in Croatia, they will still be guaranteed to qualify if they beat Azerbaijan and Wales draw at home to Hungary.
Wales only have eight points and must win both their matches to have a chance, the first being away to Azerbaijan. They must also hope Slovakia fail to win one of their matches. If Slovakia and Wales finish level on 14 points, Wales will qualify on the head-to-head rule.
There is a combination of results (it would need Slovakia drawing at home to Azerbaijan) that leaves the three teams tied on 14 points. In this eventuality, it would be 1. Croatia, 2. Wales, 3. Slovakia.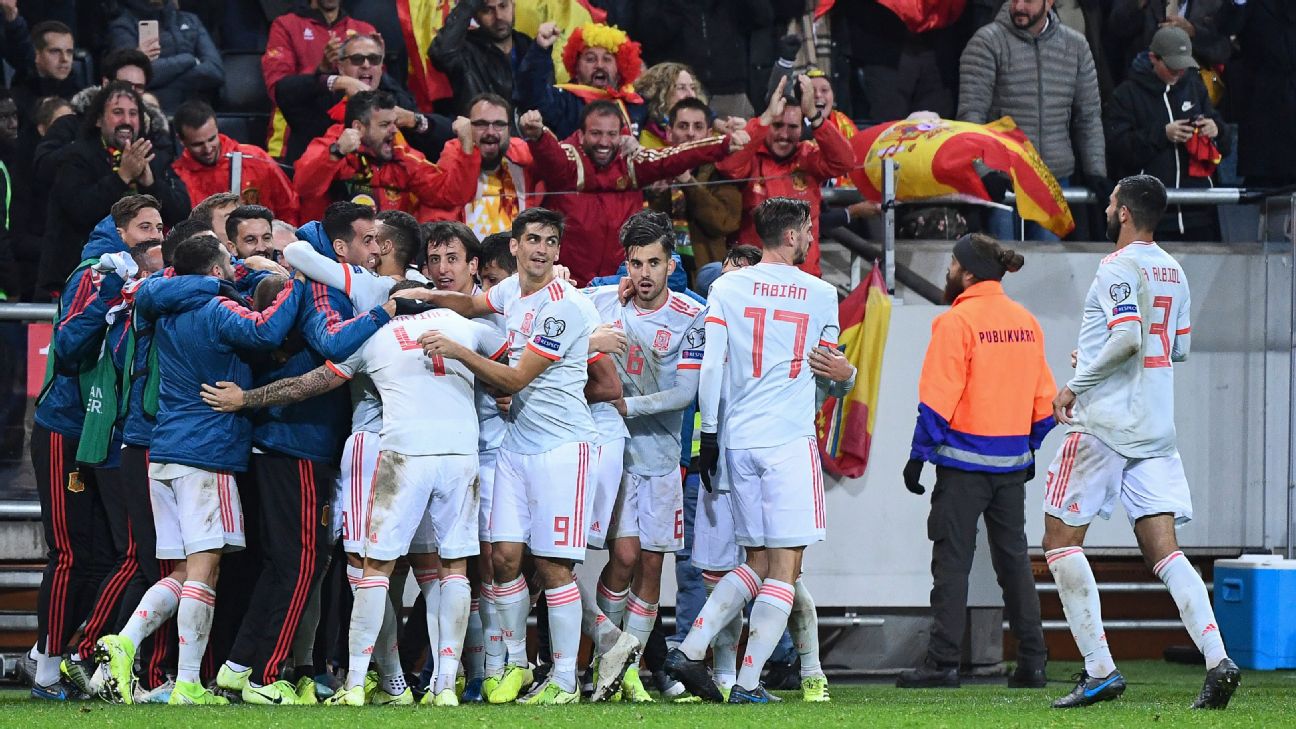 Nov. 15: Norway vs. Faroe Islands, Romania vs. Sweden
Nov. 18: Sweden vs. Faroe Islands, Malta vs. Norway, Spain vs. Romania
Spain have secured their place, but the real battle follows behind as Sweden sit in second, one point ahead of Romania with Norway a further three points behind.
Sweden should only need a point in Romania as they have Faroe Islands to play at home on the final day.
It means Romania know they must beat Sweden to be in contention. If Romania win against Sweden and in Spain, qualification is guaranteed. If draw their final match in Spain, they would need to have beaten Sweden 1-0 or by two goals or more to be second on the head to head. Because Sweden play Faroe Islands, it is very unlikely they are able to qualify if they lose to Spain.
Norway must beat Faroe Islands and Malta, plus hope Romania-Sweden is a draw and that Romania get no more than a draw in Spain, and Sweden lose to the Faroes. Again, the Sweden-Faroes fixture effectively rules that out.
Sweden and Norway have a guaranteed playoff should they need it.
Nov. 16: Slovenia vs. Latvia, Israel vs. Poland, Austria vs. North Macedonia
Nov. 19: North Macedonia vs. Israel, Latvia vs. Austria, Poland vs. Slovenia
Poland are through and Austria are almost there too, five points clear of Slovenia and North Macedonia with two games left to play. They will qualify with a point at home to North Macedonia. Even if they lose the first game, a point in Latvia then will almost certainly see them in the finals.
North Macedonia must win in Austria to stay in contention, then beat Israel at home and hope Austria lose in Latvia (who do not have a point). If Austria draw in Latvia, North Macedonia would need to have overturned the 4-1 head-to-head deficit with Austria in their meeting.
Austria and North Macedonia would both be guaranteed a playoff.
There's only slim hope for Slovenia, who must win at home to Latvia and away to Poland plus hope Austria lose both their games, and North Macedonia fail to beat Israel.
Israel have a similar situation to Slovenia. They must win at home to Poland and in North Macedonia, and need Austria to lose both fixtures as well as Slovenia fail to win a game. They are almost sure of a playoff.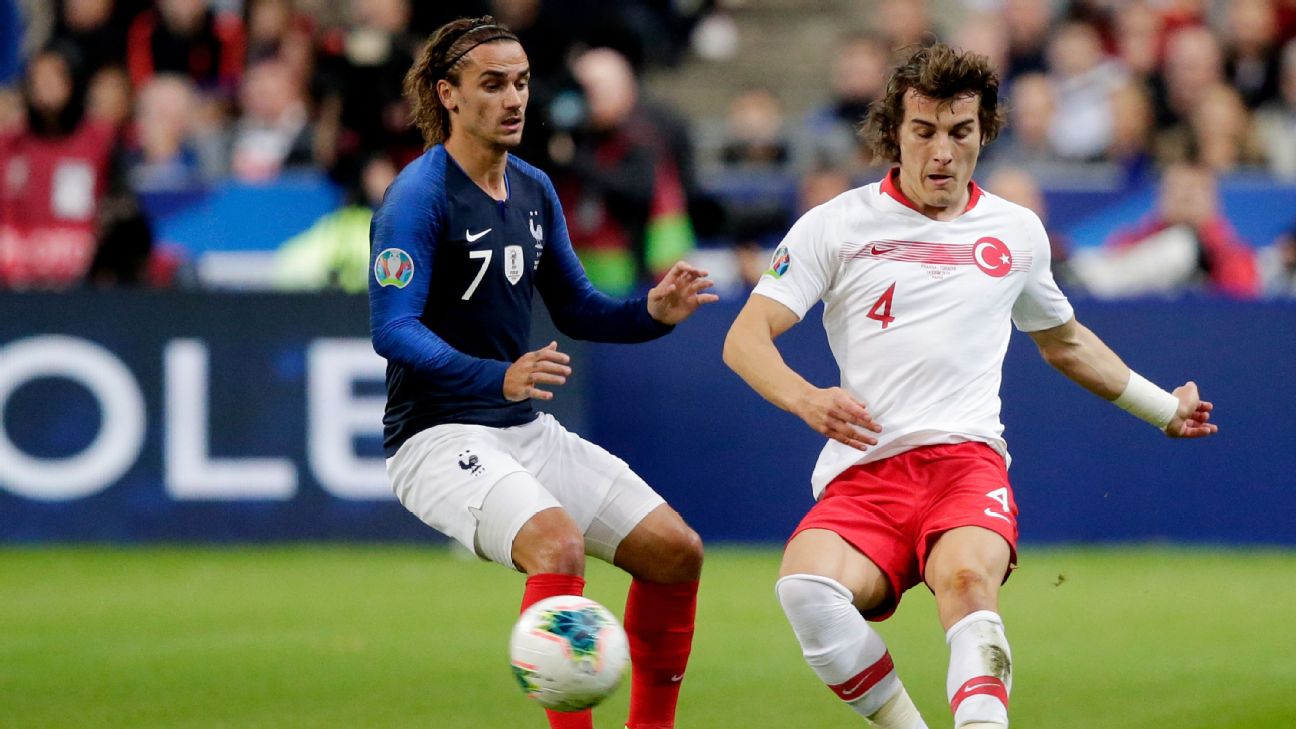 Nov. 14: Turkey vs. Iceland, France vs. Moldova
Nov. 17: Albania vs. France, Andorra vs. Turkey, Moldova vs. Iceland
Turkey will qualify if they avoid defeat at home to Iceland on Nov. 14. Even if they lose, victory at minnows Andorra would still complete the job.
France need a win at home to Moldova in their next game to qualify. If they fail to get the victory, they will be through if Iceland do not beat Turkey (if Iceland win, a France draw vs. Moldova means they would need a point vs. Albania; a France defeat to Moldova and they would need to beat Albania).
Iceland now only have very slim hope. They would need to win both games and hope Turkey fail to beat Andorra, or France pick up no more than one point. Iceland are guaranteed a playoff, which they will surely need.
Belgium and Russia have qualified, while Scotland will take part in the League C playoff path.
Nov. 15: Armenia vs. Greece, Finland vs. Liechtenstein, Bosnia and Herzegovina vs. Italy
Nov. 18: Italy vs. Armenia, Liechtenstein vs. Bosnia and Herzegovina, Greece vs. Finland
With eight wins out of eight, Italy are through to the finals and are guaranteed to be seeded in the finals draw
Finland are almost there and will qualify for their first-ever finals with a win at home to Liechtenstein, or if Bosnia fail to beat Italy that day.
Bosnia and Herzegovina must beat Italy and Liechtenstein and hope Finland pick up no more than one point (second match is vs. Greece), and also must hope that Armenia do not win both matches. Bosnia lose the head to head with Armenia, and if the three teams finish level on 16 points it will be Finland who advance to the finals. Bosnia are guaranteed a League B playoff.
Armenia's defeat to Finland all but ended their hopes. They must win both remaining games, their final group match being away in Italy, and hope Finland lose both matches.
PLAYOFFS
The best-performing nations from the UEFA Nations League who do not qualify automatically for Euro 2020 will get a playoff place.
There will be 16 teams in the playoffs, with four in each from a UEFA Nations League path.
The winners of the two one-legged semifinals will meet in the final for a place at Euro 2020.
The playoff system is explained in greater detail here.
The UEFA Nations League rankings are below.
As it stands, the teams in bold would enter the playoffs. Romania would likely be drawn into the path of League A because, as hosts, they require a playoff route to the finals that does not include another host and Scotland, as Nations League group winners, have the right to take the League C path.
There would be a draw to decide which of Bulgaria and Israel takes the remaining slot in the League C path.
*Guaranteed to take part in playoffs
League A: Portugal, Netherlands, England, Switzerland, Belgium, France, Spain, Italy, Croatia, Poland, Germany, Iceland
League B: Bosnia and Herzegovina, Ukraine, Denmark, Sweden, Russia, Austria, Wales, Czech Republic, Slovakia, Turkey, Republic of Ireland, Northern Ireland
League C: Scotland*, Norway, Serbia, Finland, Bulgaria, Israel, Hungary, Romania, Greece, Albania, Montenegro, Cyprus, Estonia, Slovenia, Lithuania
League D: Georgia*, Macedonia, Kosovo, Belarus*, Luxembourg, Armenia, Azerbaijan, Kazakhstan, Moldova, Gibraltar, Faroe Islands, Latvia, Liechtenstein, Andorra, Malta, San Marino
It means the playoffs, at present, would look like this:
Switzerland vs. Bulgaria/Israel/Romania
Iceland vs. Bulgaria/Israel/Romania
Bosnia and Herzegovina vs. Northern Ireland
Wales vs. Slovakia
Scotland vs. Bulgaria/Israel
Norway vs. Serbia
Georgia vs. Belarus
North Macedonia vs. Kosovo
FINALS DRAW
The draw will be held on Saturday, Nov. 30 in Bucharest, Romania. The draw ceremony will begin at midday ET (6 p.m. CET) and is expected to last 50 minutes in total (with 20 minutes for the draw itself).
- Euro 2020 finals draw: All you need to know
As it stands, based on teams in automatic qualifying positions, the draw pots would be:
Pot 1: Italy, Belgium, Ukraine, England, Netherlands, Spain
Pot 2: Poland, Turkey, Croatia, Republic of Ireland, Russia, Germany
Pot 3: France, Denmark, Czech Republic, Portugal, Austria, Sweden
Pot 4: Finland, Hungary, Switzerland, Bosnia, Scotland, Georgia
*Highest-ranked nations are used for the playoff winners in this illustration.
One team from each pot would be drawn into the six groups.