Top six European Championship qualifying playoffs
With the Euro 2016 qualifying playoffs set to start this week, Nick Miller looks back on six of the best playoffs in the last 20 years.
Netherlands vs. Ireland, 1996
Up until Euro '96, all European Championship finals featured eight teams, but after the break-up of Yugoslavia and the Soviet Union, that number was no longer feasible and it was expanded to 16. Thus, as well as the winners of the eight qualifying groups, the six best runners-up would go through to the tournament in England, with the other two second-placed teams in the first ever European Championships play-off for the final spot. The two lucky, or perhaps unlucky teams were the Netherlands, who were edged out of their group by eventual finalists Czech Republic, and Ireland who finished way behind Portugal in theirs. That game was a single-legged affair, played on neutral grounds at Anfield, and was settled by a brace from Patrick Kluivert, the last coming two minutes from time to kill off Irish hopes. David Lacey in the Guardian called it a "modest reflexion of Dutch superiority", and frankly the margin of victory could have been much more, with Kluivert, then 19 years old and having already won the Champions League for Ajax that year, and Dennis Bergkamp also nearly finding the net.
England vs. Scotland, 2000
Has a team ever qualified in a more underwhelming way? After struggling through their group, England struggled through their playoff, against Scotland, which would serve as a handy pointer to how they would struggle through the tournament: or, rather, struggle out of it, after they went out in the group stages. England won the first leg fairly comfortably, through a couple of Paul Scholes strikes, but the second was a monumental slog for Kevin Keegan's side, Don Hutchison scoring the only goal and Scotland coming within a whisker of grabbing an equaliser.
"We would be the first to admit we did not play well," said Keegan after the game. "We could not get going. There are lots of excuses to make, maybe it was a bit too much for the players psychologically, having a 2-0 lead. It was a poor performance and you have to give credit to Scotland and Craig Brown." In the end, perhaps Scotland would have been a better representative at the finals. They surely couldn't have done much worse. "We'll get better," promised Keegan. "We've got to get better if we're going to go to Euro 2000 with a winning chance. That's what the country wants, that's what the country expects." Not for the first, or the last time, the country was disappointed.
Ukraine vs. Slovenia, 2000
Ukraine were quite a force back in 1999, with their strike partnership of Andriy Shevchenko and Sergei Rebrov recently broken up at club level, but still very much together on the international stage. Thus, they were favourites to beat Slovenia for a place at Euro 2000, and looked like they had it in the bag on a couple of occasions. So it was a shock that after Shevchenko had put Ukraine ahead in the first leg, Zlatko Zahovic and Milenko Acimovic scored to give the Slovenians a 2-1 lead. No matter though, for with an away goal and 90 minutes in Kyiv, there was plenty of time to turn things around, and when Rebrov scored from a slightly dubious penalty with about 20 minutes left in the second game, it looked like the tie was only going in one direction. However, in the snow and with a white ball that made seeing the thing rather tricky, Miran Pavlin redirected a shot into goal; Slovenia through and Ukraine out. They will be looking for revenge in this year's play-offs.
Scotland vs. the Netherlands, 2004
It's the hope that kills you. The Dutch had finished behind the Czechs -- a team that had become a minor bete noire for the Netherlands during that time -- in their group but were still massive favourites to beat Scotland, who just snuck into the play-offs at the last, edging out Iceland. In the first leg, the Dutch somehow contrived not to find the net, meaning an early goal from James McFadden gave Scotland a 1-0 win, and that sweet hope of pulling something unlikely off.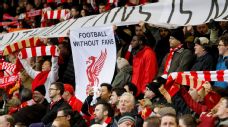 "They're an arrogant nation and sometimes that can work in your favour," said McFadden, after the game. "Everyone talks about their reputation, but they didn't qualify for the last World Cup and now they're in a play-off. What reputation? For whatever reason, they're underachieving and if we go on to qualify they'll have learned a lesson." Alas, hubris called loudly and no lesson was learned, as Ruud van Nistelrooy helped himself to a hat trick and the Dutch won the second leg 6-0, qualifying with some ease. Oddly, McFadden wasn't quite as loquacious after the second game.
Spain vs. Norway, 2004
In the days before Spain became the kings of the footballing world, they had to endure blips like this to reach tournaments, on this occasion being bested by Greece, with a portent of things to come in Portugal, in their group. And things looked rather shaky for a while in the playoffs, as Steffan Iversen gave the Norwegians an early lead, causing nerves to jangle all around the Mestalla in Valencia. Raul equalised quickly, but the away goal still carried a threat, until a Henning Berg own-goal five minutes from the end settled things down rather. The second game was rather more straightforward, as Spain eased to a 3-0 win on the night, goals from Raul, Vicente and Joseba Exteberria calming nerves across Iberia.
Portugal vs. Bosnia-Herzegovina, 2012
Football is a strange and illogical thing, in theory a meritocracy but in fact a sport which can be wildly unpredictable and make absolutely no sense at all. Take this two-legged playoff, the first leg of which was a staid 0-0 draw, played on a pitch described as "barely playable", largely dominated by Portugal but one that in typical fashion they nearly threw away. And then a few days later in Lisbon, with largely similar teams, Portugal sashayed to a 6-2 victory, braces apiece from Cristiano Ronaldo and Helder Postiga helping them along the way, as did the sending off of Bosnia-Herzegovina's Senad Lulic not long after half-time. It makes no sense, but that's the joy of it all.
The second game even featured a rare moment of benevolence from Ronaldo. "That was my area," said Miguel Veloso, after scoring Portugal's fifth from a free-kick. "I asked Cristiano, he allowed me to take the free-kick and I managed to score." Still, it's easy to be generous when you're cruising to victory.
Nick Miller is a writer for ESPN FC, covering Premier League and European football. Follow him on Twitter @NickMiller79.