Steven Ugarkovic has quietly become the A-League's best central midfielder
Three seconds. That was all the time Steven Ugarkovic was allowed growing up and playing football.
The three second limit was not set for time on the ball, however -- it was off the ball. In his formative years, Newcastle Jets star Ugarkovic had it drummed into him over and over again: If you do not receive the ball within three seconds, move into another position and create another angle for your teammate.
Like children themselves, the simplest of ideas mature. By imposing that detail, his father John planted the seed for something that has come to define Steven as a footballer.
"I tried to impart into him, it doesn't matter where you are on the field or if it feels foreign, if you move into a position and haven't got it, don't stand there and wait for the next 10 or 15 seconds," John Ugarkovic told ESPN.
"If you see nothing is happening, get out of there and look for space around you. The game will dictate sometimes where you're going to end up anyway. You can't preempt things all the time."
Into his fifth season with the Jets, Ugarkovic's primary footballing attribute has never been his engine, despite a very high aerobic capacity, but that attention to detail. That means things like his spatial awareness -- which allows all-important improvisation with positioning -- timing, tempo, awareness of individual traits. In short, the nuance of football. The 25-year-old simply gets it.
As a result, Ugarkovic has become the best central midfielder in the A-League, and that has been the case for a while. The question, essentially, is why he is so different to the majority of blunt or risk-averse Australian midfielders in this sense?
The three-second rule is but one example, showing the Jets midfielder is ultimately a creature of his environment. Standing at around 180 centimetres in boots, Ugarkovic is an average height and build for a midfielder, but plays like someone who was much smaller than other kids growing up.
Being smaller doesn't bode well in Australian youth football -- even being born in the second half of the year can be a detriment. This was the case for Ugarkovic and his father, who also played for Sydney Croatia in the National Soccer League, confirmed as much.
"He was always smaller. In state teams when he was growing up, if they needed 20 players, he was 21. If they needed 30, he was 31," he said.
"Coaches would come up to me and say his vision is great, engine is great, but there would always be a but.
"I still remember when he was selected for training at Coerver for the under-9s and his kit was too big for him.
"That's how things are here in Australia and at the end of the day, it's why I always wanted to be honest with him when he would ask me how he played, if he played well or not."
As a consequence, smaller players have to think the game through and learn to properly utilise their bodies, because they are not as strong and fast as others. Especially in an era where time and space on the pitch is evaporating, football matches can be decided by the smallest of details. The current compactness of defensive lines and speed with which teams can transition, has simultaneously expanded and segmented the pitch.
The consequent influence a central midfielder must have in technical, tactical and physical aspects of the game -- both in embedded and transitional phases -- has increased to the point where more than ever, they are responsible for the collective. Playing at the heart of a team requires brain and brawn. Few in the A-League understand this reality as much as Ugarkovic. The 25-year-old's mind is as active as his lungs and feet on the pitch, working constantly.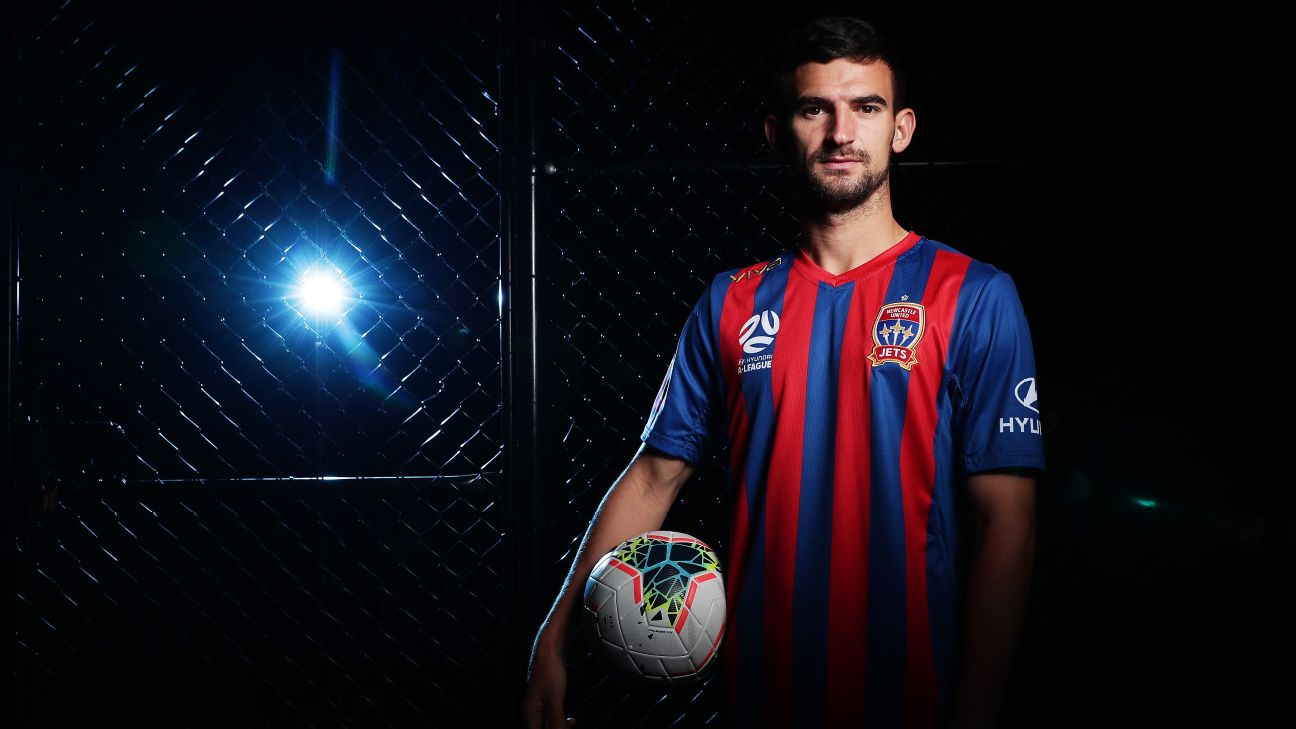 In the Jets' last match, a 1-0 win over Western United, the smallest of details had a critical impact. Before Max Burgess' introduction for Connor Chapman, Ugarkovic bossed proceedings because of his detailed processing of the game. After similar scenarios, one example highlighted this in the 55th minute.
Immediately asserting themselves as an intelligent team in possession this season, Western United's ability to win fouls has been a pivotal characteristic, in order to control tempo and create better chances. One of United's protagonists in this respect, Scott McDonald smartly works into a pocket of space. Ugarkovic pressures just enough so McDonald feels his presence, but lets up as McDonald begins to plant his feet, where other opponents have so far lunged. No foul, play continues and Western United are forced backwards, creating an opportunity for Newcastle to win the ball higher up the pitch and transition.
A small but important detail but for the Jets midfielder, an individual observation leading up to the match and consequent adjustment.
"I sort of took that upon myself," Ugarkovic told ESPN postmatch. "Scott's a quality player. I rate him very highly and he uses his body well. Watching a few games now, he likes to use his body so I felt giving him a bit of space and not allowing him to turn me was the right option.
"If he goes backwards, that's the team's job done and it seemed to work."
That attention to detail also ties into how he impacts Newcastle's phases of possession. Ugarkovic's intelligent movement compensates for a relative lack of crispness between his first and second touch, allowing him to both get the team closer to goal in dangerous positions and get out of situations where he could lose the ball in earlier phases of play. By relieving individual pressure, it is then applied on the opposition collectively.
"If I see a bit of space and a player's moving, I want to step into it, so I free myself up and give myself that extra bit of space and time. That split second so I can get my head up, get my touch right and move forward with it," Ugarkovic said.
"I'm disappointed with myself if my touch is taking me backwards. That's a bit of a let down if that happens."
Along with boundless energy, Ugarkovic is constantly scanning positions. Rather than watching the ball when Newcastle are in possession, keep an eye on Ugarkovic -- his impact will immediately become apparent. His intelligence in getting the team up the pitch and through the middle -- an important distinction given the formulaic and lateral orthodoxy of possession in the A-League -- is unmatched for his position. As Ugarkovic observed, though, end product is the next step.
Given lower squad quality than the A-League's best, a higher burden is placed on the collective's capacity for realisation. The Jets currently hold the lowest conversion rate in the A-League so far: 10.4 percent. That's significant, when also considering the counter-attacking Jets see less of the ball than the rest, with a bottom-ranked 377.6 passes per game. They're the only team under 400 in that category, but are currently sixth for shots per game at 14.2.
Although Ugarkovic incorporates teammate Matt Millar and facilitates his overlapping to attack the spaces he does, the former needs to carry more of a responsibility in this sense. His assist for Jason Hoffman against Perth Glory was a positive sign because, along with getting Newcastle into Perth's defensive half at the start of the passage, he was then able to move into penetrative space closer to goal and capitalise.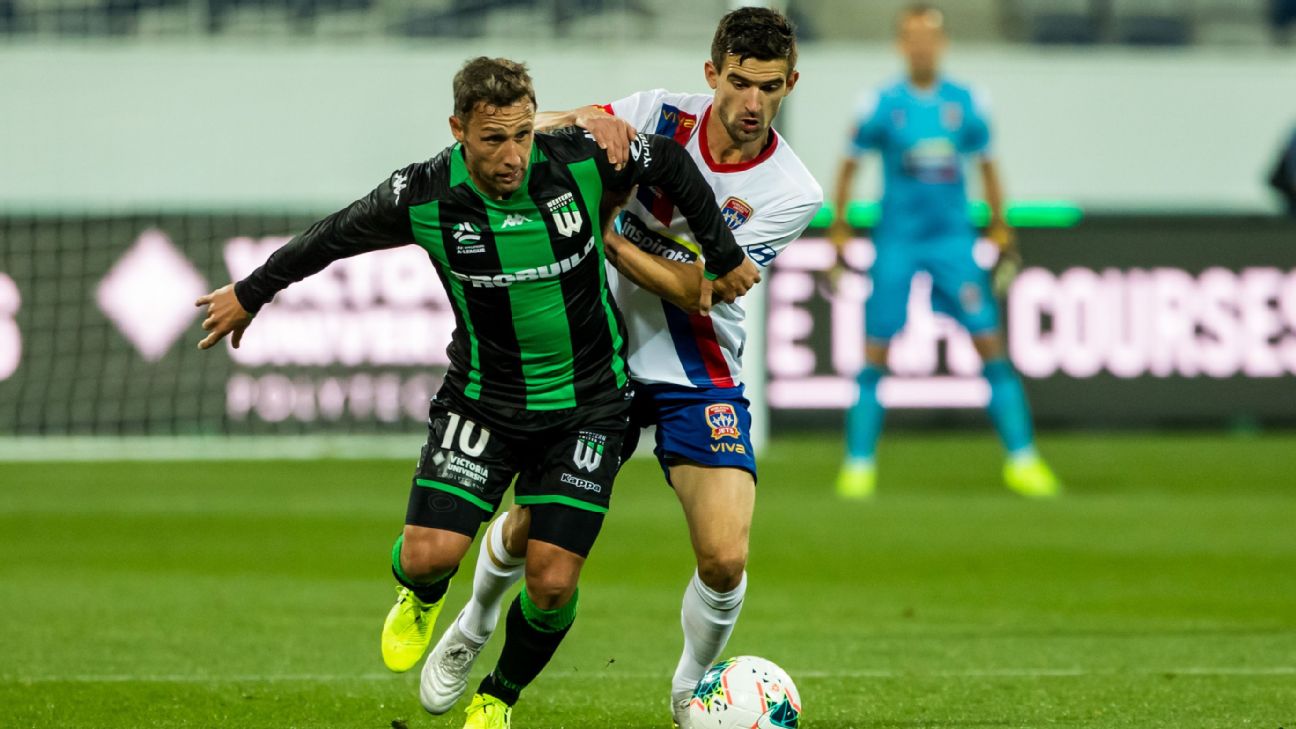 "In the last few years, my final pass has let me down a bit," Ugarkovic admitted. "That's sort of holding me back, and last week, Hoff made the run and it's onto me to deliver the ball.
"This season, I've tried to put pressure on myself to get on the ball as much as I can. Doesn't matter how many players are around me, I just want to be on the ball.
"That's what I'm working towards, just building that pressure and bettering myself with every game. You have to defend too but that's what football is about. That's the fun part. having the ball and when you get it, see if you can create something.
"If I can keep finding those pockets and feeding players where they're in on goal, ideally on one touch, that's the end product that I want to produce."
According to Jets coach Ernie Merrick, end product also incorporates a tendency not to shoot.
"Ugarkovic has come on really well. I think he would be a really good all-round player if he could score," Merrick said following the win in Geelong.
"He would rather give it to someone else ... but I'd like to see him having a go and shooting. That would make him a really good all-round player.
"I've talked to Steven since I've been at the club, about being a midfielder who can finish.
"His engine's incredible. He can run up and down all day, covers half a marathon just about every game. And he does that at training. He's got so much energy, he wins the ball, plays the ball forward. If he could score, we'd struggle to hold onto him."
Even without that, Ugarkovic is the A-League's best in his position, but he is less attractive than a Luke Brattan or Riley McGree because he does not finish on the score-sheet or always play the final pass. Nor is he overtly defensive like a Josh Brillante or Juande, despite his work rate.
Much like in his youth, there's a misapprehension about what Ugarkovic does and how. Like Merrick alluded to though, if he continues to improve on end product, Ugarkovic would go from being the best in his position to being one of the best players in the league, period.