Sebastian Cordova shines as Mexico struggles past Bermuda in CONCACAF Nations League
Mexico closed out its run in the group stage of the CONCACAF Nations League with a narrow 2-1 victory over Bermuda on Tuesday. Thanks to a late game-winner from Uriel Antuna, El Tri avoided what could have possibly been an embarrassing draw at home against a North American minnow that is currently ranked at No. 168 in the FIFA rankings.
Nonetheless, with four consecutive wins in the competition, a place in the knockout round of the Nations League tournament awaits El Tri next summer.
Positives
Whether it be as a starter or a substitute, Raul Jimenez has recently had no problems with making an impact in the attack for Mexico. After stepping up with two goals and an assist in the previous win over Panama last week, the Wolves striker came off the bench on Tuesday and provided the assist for Antuna's game-winner.
Sebastian Cordova was another highlight in a roster that looked surprisingly listless and underwhelming for most of the evening. The young playmaking midfielder --- who scored Mexico's first goal --- at times looked like the only player on the pitch that was attempting to breakdown the Bermudan backline.
Negatives
Where to start? Luis Romo lacked confidence as both a defensive midfielder and central defender, goalkeeper Hugo Gonzalez had a costly error early on in the game, Erick Aguirre was nowhere to be found and striker Jose Juan Macias was easily contained. There was no real cohesion when Mexico had the ball and it wasn't until late into the second half when the team finally began to truly test Bermuda's backline.
Manager rating (out of 10)
7 -- It was an ugly win, but one in which manager Gerardo "Tata" Martino made the right moves in the second half in order to make it happen. The addition of Roberto Alvarado, Rodolfo Pizarro and Jimenez were just enough to help Mexico clinch the win. Also, after experimenting with Romo as the defensive midfielder and Edson Alvarez as a central defender, Martino later altered his failed plan and correctly moved Alvarez higher up the pitch in the place of Romo.
Player ratings (1-10, with 10 the best. Players introduced after 70 minutes get no rating)
GK Hugo Gonzalez, 6 -- A decent performance in net that will be justifiably stained by his early error through a miscommunication with Romo. Both players gifted an easy opportunity for Bermuda that quickly helped create the opposition's lone goal.
DF Jorge Sanchez, 5 -- If Sanchez wishes to continue being a part of the national team conversation, he'll have to be more proactive than he was on Tuesday. The 21-year-old full-back provided too much space for Bermuda off corners and played far too conservatively when he did have the ball.
DF Edson Alvarez, 7 -- After starting off in the heart of the backline, Alvarez was later tasked with taking over for Romo in his usual spot as a defensive midfielder. We've seen better days from the Ajax player defensively, but that said, he was crucial in much of the build-up going forward.
DF Hector Moreno, 6 -- Similar to Alvarez, we've seen better showings from Moreno. Despite a couple of his interventions, the 31-year-old at times had difficulties with keeping up with the pace of Bermuda's counters.
DF Cristian Calderon, 7 -- It was easy to lose track of the crosses that Calderon swung in from the left flank. Many failed to hit the target, but the high-pressing left-back threw everything he had into the 18-yard box for El Tri.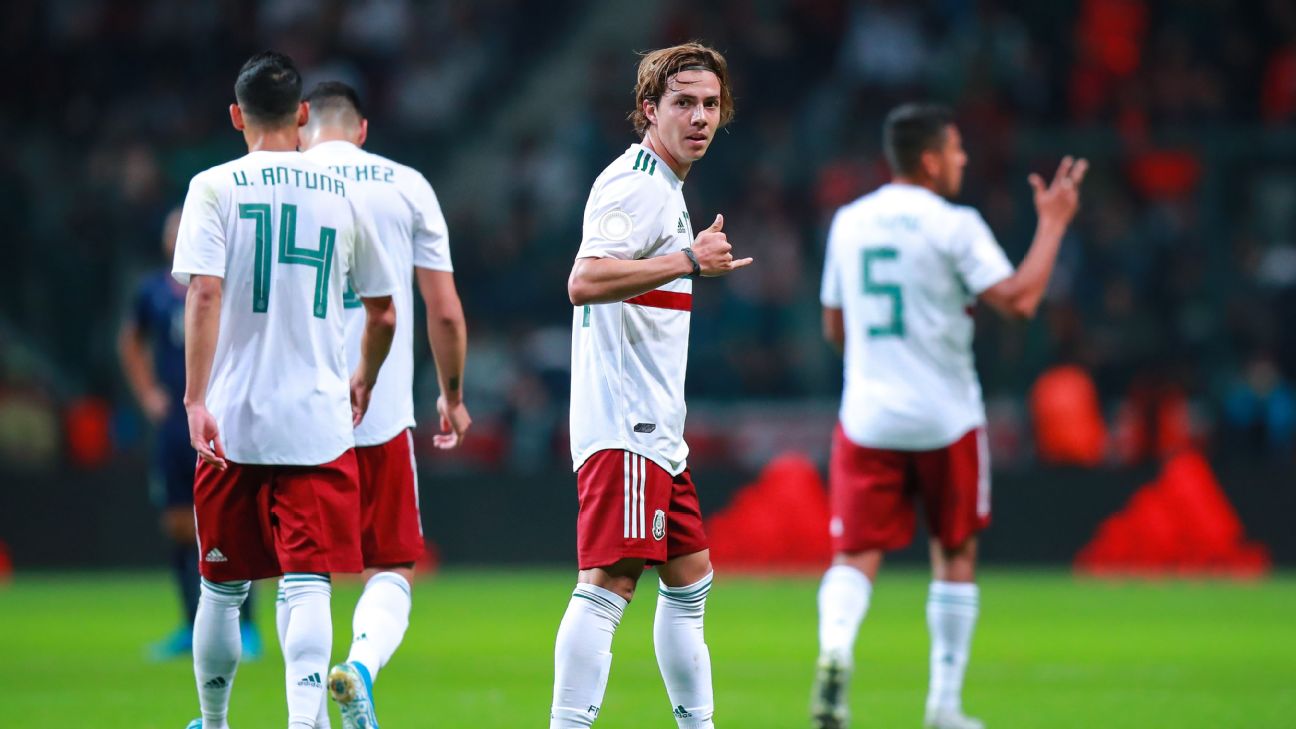 MF Luis Romo, 5 -- Romo was caught sleeping in the first half mistake with Gonzalez and lacked the right amount of distribution that Alvarez later provided in his position as the defensive midfielder. After moving to the backline, he continued to look uneasy.
MF Sebastian Cordova, 8 -- Cordova was easily the man of the match. The 22-year-old took risks with his dribbling and helped set up a number of key passes in the final third. His goal in the first half will also go down as one of the best from El Tri in 2019.
MF Erick Aguirre, 4 -- Aguirre was one of Mexico's most quiet players. After an uneventful first half, Martino justifiably pulled him off the field in the 62nd minute.
FW Uriel Antuna, 7 -- After misfiring a number of shots, Antuna emerged as the unexpected hero of the night with his game-winning goal in injury time. The defining moment helped compensate for a performance that was at first uninspiring from the LA Galaxy player before the goal.
FW Jose Juan Macias, 4 -- Macias didn't connect well with the frontline and was rarely a threat for Bermuda. The promising striker will need more time before he truly makes a splash on the international stage for Mexico.
FW Orbelin Pineda, 4 -- Although Pineda should be given credit for the assist on Cordova's goal, he proved to do little else in the attack. Like Macias, he struggled with finding some chemistry in the final third.
Substitutes
FW Roberto Alvarado, 7 -- Substituted in for Pineda in the 62nd minute. Alvarado was a lively and necessary addition to Mexico's attacking efforts. The winger later finished with the hockey assist for Antuna's goal.
MF Rodolfo Pizarro, 7 -- Substituted in for Aguirre in the 62nd minute. Pizarro provided brief glimpses of flashy playmaking in his cameo appearance. Given more time, Mexico might have been able to secure a second goal earlier on.
FW Raul Jimenez, N/A -- Substituted in for Macias during the 71st minute.