Mexico's mini-camps bring substantial boost for Martino
TOLUCA -- Mexico's Gold Cup win in the summer may not be the most important positive for Gerardo "Tata" Martino since he took over as head coach of the Mexico national team at the start of the year. That particular title may just be the fact Martino is being allowed to hold mini-camps with young domestic players and games outside of FIFA international dates, like Wednesday's 2-0 victory over Trinidad and Tobago.
Not many leagues in the world that boast national teams inside the top 20 of the FIFA rankings would allow a manager to call in 24 young, domestic-based players for midweek camps, like Martino has been able to do in recent months. Imagine Spain asking Barcelona to let Ansu Fati come and train for a few days a week during a non-FIFA date, or Pep Guardiola being asked the same about Phil Foden by England boss Gareth Southgate?
- Martino: MLS can be as big as NBA
- Hugo Perez: Mexico ahead on dual nationals
The openness of the Liga MX clubs is important for Martino's project -- "I'm thankful to Liga MX clubs for the commitment they've shown," he said on the eve of Wednesday's game.
Let's not forget that Martino left the Argentina position back in 2016 not because of the consecutive Copa America final losses, or because Lionel Messi had resigned from the national team, but because he wasn't backed by Argentine clubs when putting together a squad for the Olympics.
The development of a playing idea and implementing it in a new generation of Mexican youngsters is Martino's goal, eventually creating more competition for places and fine-tuning Mexico for a shot at that "fifth game" in 2022.
"After having a lot of training sessions with them, we finally played a game and I'm satisfied that the team reflected on the field what we've worked on in training," said Martino in the postgame news conference.
Martino would love for Mexico to play the Copa America next summer, for El Tri to be in Europe playing friendlies, rather than Nations League games against Bermuda and Panama later this month, but CONCACAF is their reality.
To at least make up for the shortfall of regular games against quality opposition, Mexico's strategy moving forward will be to play CONCACAF Nations League games in October and November with mainly a domestic-based and young squad.
The Under-23s, who play two friendlies in Mexico against Argentina in this month's international break, will play second fiddle until the end of the year. The focus next year for the younger players will be the Olympics, with the regular Europe-based El Tri internationals set to return for the March friendlies and, in all likelihood, the finals of the Nations League in June.
The post-Tokyo period is shaping up to be a crucial time for Martino, who will be hoping that between now and then that his group of young players will be closer to challenging those established names, many of whom appeared for El Tri at Russia 2018.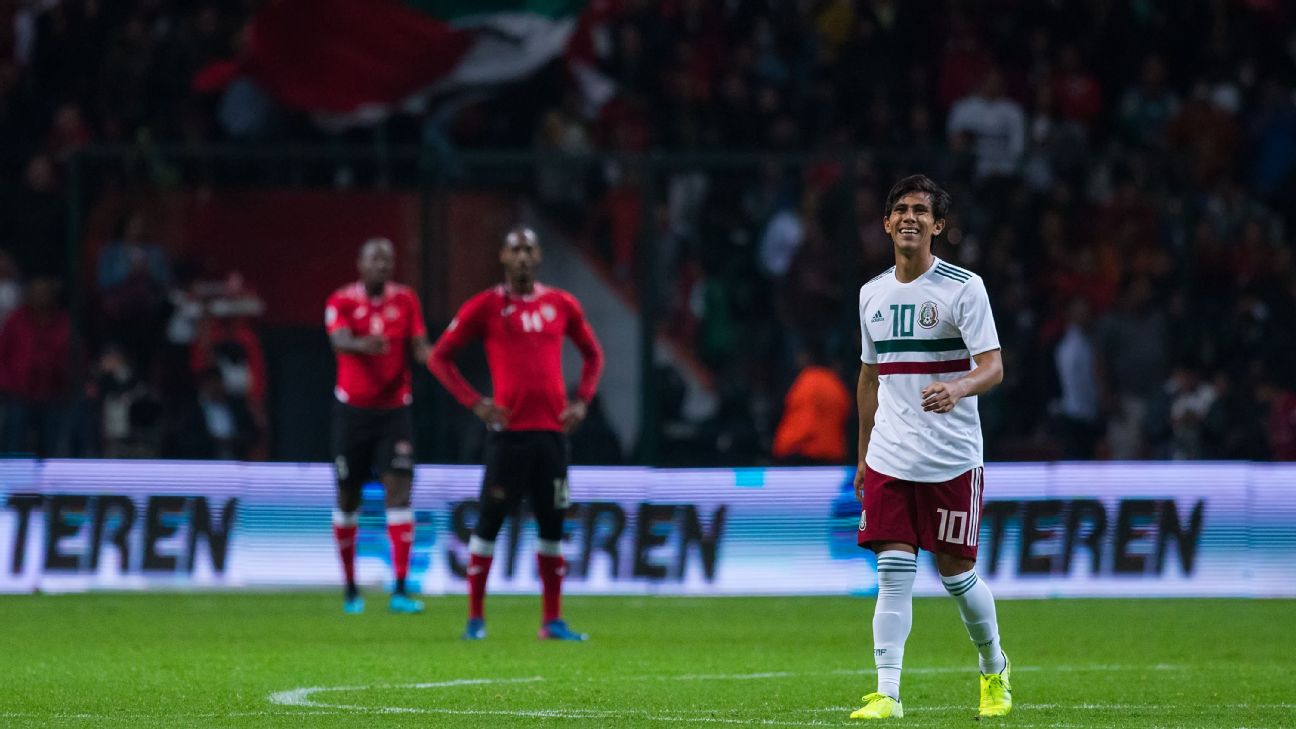 As for Wednesday's win, it'll be remembered in time as Jose Juan Macias' goal scoring debut, as well as the first time Sebastian Cordova featured for the national team. Both are shaping up to have long careers with the national team.
Macias' involvement had reportedly attracted European scouts and the player has previously said his goal is to move over the Atlantic, but Martino urged caution.
"I'm always of the idea that the more developed they are when they go, the smaller the chance of them coming back quickly," said Martino. "They decide, but with the experience I have as a coach, I always advise a little patience and calm."
The 4-3-3 formation Martino has employed so far with Mexico was once again utilised, with Leon's Ivan Rodriguez impressing in dropping back between the centre-backs to create a 3-4-3 when playing out from the back.
This was a chance for Martino to experiment as well. He used Atlas full-back duo Ismael Govea and Jesus Angulo in the middle, likely because he likes his centre-backs to step up as much as possible, especially against sides employing a low block. The duo did well considering they don't usually play in the position.
Sweeping conclusions about individuals can't be made off the back of one game against a weakened Trinidad side, but the younger players did show that they've taken the basic concepts of Martino's playing idea on board. And that, outside the confines of a FIFA window, is an important positive.