MLS training amid coronavirus: Clubs send players balls, rollers and dumbbells to keep fit in quarantine
This weekend, Major League Soccer teams were scheduled to be playing the fifth or sixth game of their 2020 season. The players would have settled into a rhythm, with early-season nerves and excitement giving way to the day in, day out, week in, week out predictable monotony of the professional athlete's life.
Instead, they are home like the majority of the country, trying to get into a very different rhythm of staying fit and staying safe during the COVID-19 pandemic.
When the league announced a suspension of the 2020 season and training moratorium on March 12, team officials scrambled to ensure players and staff had the information they needed. Team training staffs had an additional goal: send players home with equipment they'd need to train on their own for an unknown period of time.
New York City FC's Gary Mackay-Steven and his teammates each got a dumbbell or two, a foam roller and a yoga mat. In Seattle, Cristian Roldan and his fellow Sounders took home some equipment as well. The Colorado Rapids training staff sent each player off with a soccer ball, a foam roller and rubber bands, as well as weights designed to help with position-specific strength.
"The goalkeepers got a trap bar deadlift type of equipment with some type of plates," Clint Irwin said. "I've been cranking out deadlifts, all day, every day."
Big thank you to @ChadKolarcik and @ColoradoRapids staff for hooking us up with everything we need to ride this thing out. pic.twitter.com/GcfV6TigoG

— Clint Irwin (@ClintIrwin) March 23, 2020
The goal is to maintain a basic level of fitness during a very uncertain period, and to ensure that, players are getting programs from their fitness teams.
"It's very similar to our offseason program," Matt Besler wrote in an email. "Lots of circuit-based workouts and high-intensity interval training with a couple longer runs sprinkled in throughout the week."
Roldan and his teammates are generally following what the Sounders staff sends, but he says he'll occasionally mix it up based on how he's feeling: "I have the privilege of having a bike here, so I mix and match."
NYCFC's Mackay-Steven typically runs early in the morning, wearing headphones and avoiding people, learning routes around his neighborhood that he never thought he would explore. In the late morning or early afternoon, he'll work out on his own with weights or join his teammates on a Zoom call. "We had a yoga class today," he said. "It was a little bit more high-intensity, a full-body workout and a shock to the system. It was tough and a little bit different, but it's what's needed in these times."
- ESPN+ Stream ESPN FC, 30 for 30 Soccer Stories and much more
- FIFA's bold plan to handle a looming transfer crisis
The video meetings are as much about getting the heart rate up as they are about creating a connection with teammates and friends. "Keeping the spirits up," according to Mackay-Steven, who lives by himself.
In addition to yoga and other workouts, the Rapids have been experimenting with Zoom cooking classes.
"They are a little bit forced at the times, but the overall benefit is for guys to feel connected and see each other's faces, to check in and have a bit of banter," Irwin said. "When you don't have that, you realize how much you miss it and how much that connects you to your friends in the locker room."
Generally speaking, cooking for themselves is something MLSers are embracing, perhaps for the first time. During a typical season, they get many of their meals at the team facilities. Now, however, that option no longer exists. The need, and the time, to cook is here. Roldan wasn't a cook "at all" before, but he's been enjoying experimenting and was planning to make meatballs after speaking with ESPN. Mackay-Steven gets recipes from his mom and girlfriend back in Scotland, a few chicken dishes, a few pasta dishes, a chili con carne that was "very, very nice and could be a favorite going forward." Besler and his family attempted homemade pasta, which "was quite the process but a lot of fun (and delicious)." They've also started Wine Tasting Wednesdays, which is quite relatable.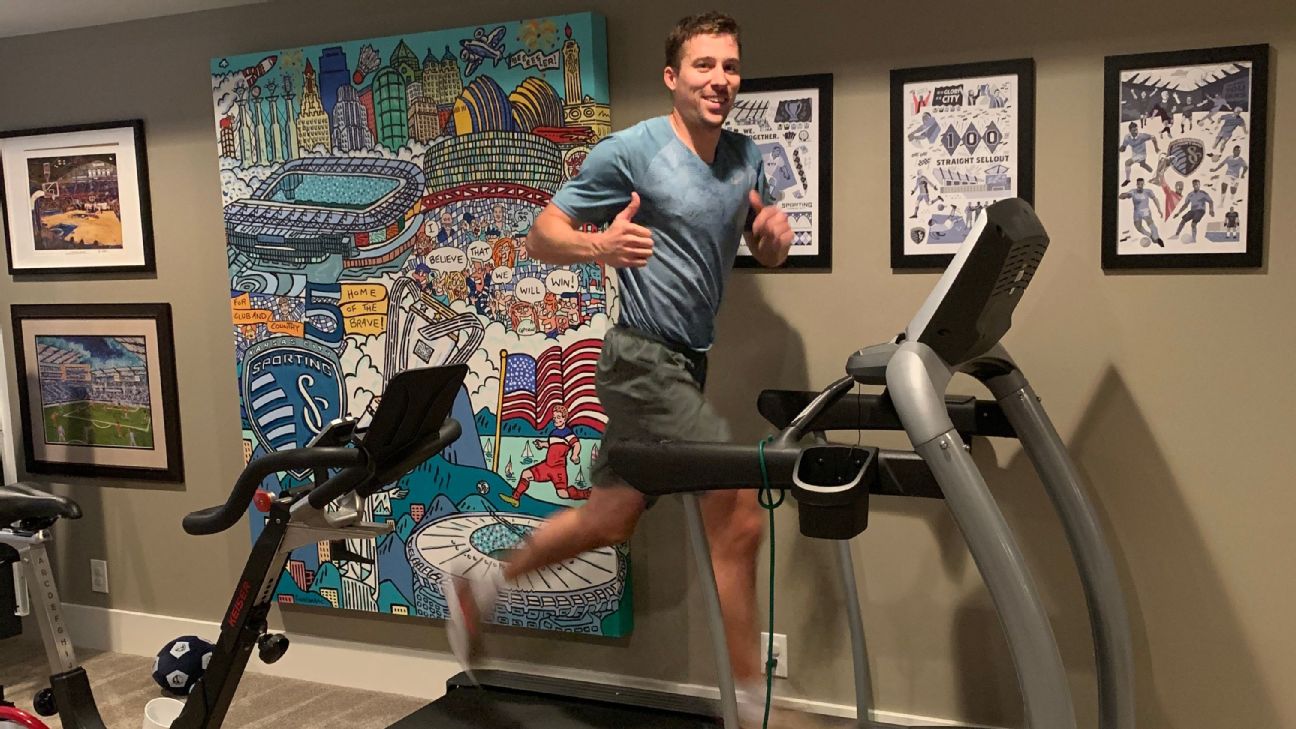 Just like everyone else, MLS players are trying to get through this experience as well and as safely as they can. Besler sketched out a typical day: Wake up early, play with the kids, work out in the morning, lunch, kids take their naps, recovery bike/yoga/stretch session, play outside with the kids in the afternoon, make dinner, go for a family walk, the kid's bedtime routines, an hour of reading or watching shows and then bedtime. MLS players, they're suburbanites just like us.
Some are finding time to try new things. Roldan, an avid Fortnite player, started streaming his games on Twitch for a couple of hours a night.
"I never had the courage to do it before," he said. "I'm going out of my comfort zone and engaging with fans that want to watch me play video games. I have a blast, answer any questions that people have for me. It's a free way to talk to professional athletes."
Besler recently joined teammates Johnny Russell and Roger Espinoza to chat with fans and answer questions while they viewed Sporting Kansas City's 4-0 win over the Houston Dynamo earlier this season.
Mackay-Steven is keeping himself entertained in a mix of ways. Reading is one, powering through Haruki Murakami's "Men Without Women" and Ernest Hemingway's "A Moveable Feast," the latter a memoir of the author's days in Paris spent mingling and partying in a way that suddenly seems so foreign during a time of social distancing. He's working on his guitar skills and added some juggling balls to his book order as well. Other routines involve FaceTiming with friends and family back in Scotland, his new free time a boon for communication with loved ones who are five hours ahead. His girlfriend came to the U.S. for the CONCACAF Champions League game against Tigres on March 11 and stayed a few days afterward, but flew back a day or two before flights were stopped.
"It was good she got home, but in a selfish way, it's too bad she's not here," Mackay-Steven said.
In Kansas City, Besler's been spending time doing some yard work, planting a bunch of white pines, green giant arborvitaes and maple trees, while constructing an entrance gate and finishing a vinyl horse fence. And everyone is cleaning: basements, closets, garages, etc., etc.
The question on the minds of the players (and the rest of the planet) is when will this all end. Irwin, a member of the MLS Players Association executive board, is constantly in meetings and on phone calls, helping to facilitate the spread of information to other players. It's still a wait-and-see period, but the goal is for the league and its players to be ready physically and mentally to return to training, and then matches, when it's safe to do so.
"The uncertainty of it is the hardest part for the players, and I think for everyone involved," he said. "It's hard to predict when we're going to be back and what the season will look like. Right now, we're just kind of hanging out. "
For athletes who are used to having their days scheduled for them, their training, games and recoveries mandated, the relative unstructured nature of their new lives is beyond unusual. I asked Besler if this was the strangest period in his soccer career.
"Yes, not even close," he wrote. "I hope we never have to go through this ever again."