Houston Dynamo win two in a row while Minnesota United ship in 11
Week two of the 2017 Major League Soccer season saw Houston Dynamo continue their good form while new boys Minnesota United suffer another heavy defeat! Jason Davis takes a look at the weekend's best and worst performances.
Heroes
There's definitely a new energy in Houston, where the Dynamo are off to 2-0 start under new boss Wilmer Cabrera. After last week's surprising victory over the defending champion Seattle Sounders, Houston followed up with a resounding 3-1 win over Columbus Crew. Both wins have come at BBVA Compass Stadium, admittedly, but considering how badly 2016 went for the once-proud Dynamo, even that is a reason for optimism.
Most startlingly, it's the attack that is carrying Houston thus far. Five goals through two matches is a promising return for a team that averaged barely over a goal a game last year. There's no guarantee they'll keep it up, especially when they go on the road to Portland next week, but the Dynamo are already 12 percent to last year's goal total with 34 games to go.
Two figures have made the difference in the attack so far. Erick Torres, a player who has been caught in U.S.-Mexico purgatory for the better part of two years, has finally started to deliver on his talent in Houston. Torres scored his second goal of the year on Saturday, a stunning back-post curler that followed a brilliant first touch. Romell Quioto, a 25-year old Honduran brought in in the offseason, also tallied his second of the year to open the scoring. It was Quioto who provided the beautiful finish last week -- this time around, he baited Crew SC goalkeeper Zack Steffen into a mistake that resulted in a second-minute opener.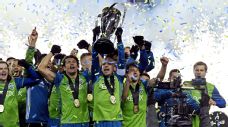 Subscribe to MLS LIVE today!
- MLS LIVE is back with an all-new platform for 2017
- Get the most matches ever, LIVE and ON DEMAND
- Packages start at only $14.99 a month
- Watch MLS on your phone, computer or TV
- Subscribe today at live.mlssoccer.com
This being MLS, no one should ever be surprised when a team expected to be mediocre turns fires out of the gates with a pair of excellent results to start the season. In other words, what the San Jose Earthquakes are doing shouldn't be all that shocking. San Jose began the year with a win over the Montreal Impact on the back of an fantastic Anibal Godoy goal. In week two, they need three goals to execute a massive comeback against the Whitecaps, but carrying over a theme it was again Godoy who put his name on the scoresheet in spectacular fashion with the winner. The Quakes need goals from Chris Wondolowski (he got one as well) to be competitive in the West, but if Godoy is not a scoring threat every week, San Jose could be better than anyone expected.
Villains
It seemed right to give the Minnesota United defense something of pass in the club's first-ever MLS game on the road in Portland last week. At home in the expansion side's debut in front of the Minnesota faithful, that pass was revoked, with extreme prejudice. It's a bit harsh on Atlanta and its trio of South American stars (who did not seem phased by the frigid, snow-swept field at TCF Bank Stadium) to put the focus on Adrian Heath's defense, but Minnesota did make history in their 6-1 loss. Combined with last week's 5-1 mauling at the hands of the Timbers, Minnesota United became the first team in the history of MLS to give up five or more goals in back-to-back matches.
United fans have to be thinking that it can only get better. It's not clear that's the case.
The LA Galaxy are 0-2 after home 1-0 home loss to the Timbers on Sunday evening. That's a big deal, since LA lost just once at the Stub Hub Center in 2016. Portland secured the win off an incredible five-touch counter-attack that included a smart header by Diego Chara into the path of Diego Valeri, who then set Chara up for the simple finish.
Beyond the wonderful Timbers goal, however, the story of the game was the ejection of Galaxy center-back Jelle Van Damme for a second yellow 10 minutes before half-time. Van Damme earned the first caution from Baldomero Toledo for dissent when he argued a call in the 31st minute. It was just a few minutes later when the Belgian went in aggressively on Portland midfielder David Guzman at the center stripe, a tackle that prompted Toledo to pull out the second yellow.
Here's the problem: Van Damme didn't make contact with Guzman on the second foul. The Costa Rican made the most of the late challenge and threw himself to the ground to bait Toledo. Guzman actually managed to hurt himself in the process, forcing head coach Caleb Porter to make an early substitution. Expect the Disciplinary Committee to have something to say about the mess later this week.
Let's just lump D.C. United, Sporting Kansas City, and Real Salt Lake together as the "goalless wonders." All three sides have played twice in the new season, and none of them has a goal to show for their work. D.C. United took one on the chin up in the Bronx on Saturday, giving up four goals to NYCFC in a 4-0 defeat. Things are actually okay for Sporting all things considered -- SKC hasn't scored, but they haven't conceded either. Peter Vermes and company have two points ... which is something. Real Salt Lake is on just one point after a goalless showing in Chicago saw fall to the Fire.
TEAM OF THE WEEKEND
Jason Davis covers Major League Soccer and the United States national team for ESPN FC. Twitter: @davisjsn.