FIFA, here we go again: Reform chief Carrard talks Blatter-style nonsense
The man charged with leading with FIFA's reform task force (he was appointed earlier in August) is a 77-year-old Swiss lawyer who spent 14 years as director general of the International Olympic Committee.
He's also a guy who, in 2015, believes that football in the United States -- the FIFA kind -- is "just an ethnic sport," something for "girls to play in schools." And who thinks it's a good idea to say as much. In a public, on-the-record interview.
Francois Carrard was speaking to the Swiss newspaper Le Matin and, thinking he must have been somehow taken out of context, I looked up the original article. Feel free to do the same.
He wasn't. He draws a comparison between the Salt Lake City Winter Olympics scandal, which occurred on his watch, and the current FIFA corruption scandal. He concludes that the IOC scandal, from an American perspective, was worse, because it happened on U.S. soil, "in the heart of Utah, amongst the Mormons." Therefore, it was a shock. But because soccer isn't as important as baseball, basketball or American football, you infer, and because Carrard said that the widespread FIFA corruption case involves "only a few rogues," this isn't as serious.
However twisted (or correct) his opinions, you wonder about the common sense of a guy tasked with reforming the governing body of world football who would use such loose language.
A sport for ethnic minorities and schoolgirls?
Go tell that to the 24.4 million American footballers FIFA itself counted in 2007. Only China has more. If you limit it to registered players, only Germany has more.
Carrard earned plaudits in the late 1990s, helping reform the IOC after it emerged that members were soliciting bribes from candidate cities, a scandal that centered on the 2002 Salt Lake City Winter Olympics.
Given that, it's hard to believe he's the same guy who now says he fails to understand why the Department of Justice would get so worked up over this since football "isn't a real American sport" and crimes like the ones investigated by U.S. prosecutor Loretta Lynch are everyday occurrences in America.
On the first point, it's always nice when a Swiss septuagenarian decides what is a "real American sport." If the 24.4 million Americans who play regularly aren't enough for him, or the fact that Major League Soccer's average attendance last year was the seventh highest in the world, or the record TV audiences for the U.S. national teams (men's and women's), or the fact that the U.S. World Cup TV rights are by far the most valuable in the world, well, he really can't be helped.
As for the fact that bribery and embezzlement happen every day in the U.S., sure, no doubt he's right. But maybe, particularly as a guy who spent half a century practicing law, he might understand that it's not a reason not to investigate. Or maybe they held a bells-and-whistles news conference in New York because soccer matters more in the U.S. than he thinks.
Carrard's interview suggests he sees himself as some kind of wannabe folksy, non-PC, blunt-speaking truth-teller. Instead, he comes across as someone who doesn't understand the weight of his words and for whom a modicum of respect -- or at least diplomacy -- is a bridge too far.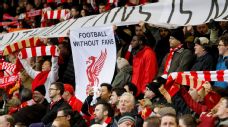 And that's worrying. Because if FIFA reform is to have a snowball's chance in Doha of succeeding, the guy leading the charge needs to be seen as an impartial technocrat who can't be attacked by anyone for his views or biases.
That's why it's not his place to come out and say that Sepp Blatter is being treated "unfairly." True or not -- Blatter is scapegoated as the source of all evil when in fact, at worst, he's an enabler -- as head of the FIFA reform task force Carrard should know better to make such a statement. He is entitled to his opinion, but the moment he took on his gig, he forfeited his right to opine publicly.
At a time when the game's governing body is in deep crisis with two separate investigations going on, the appearance of impartiality is paramount. Instead, we get a guy who goes out of his way to say he hasn't seen "a shred of evidence" against the guy running the organization he's been asked to reform. Simply keeping his mouth shut on Blatter and talking instead about his task force and what he plans to do would have been a much wiser decision.
Carrard also has a flair for melodrama.
"[Without FIFA], football will fall completely in the hands of organized crime," he said. "I'm certain of this, and it's scary ... Pseudo-professional leagues will be created and they'll be the fiefdom of match-fixers."
"I am absolutely certain: if FIFA goes, football is dead."
Really? It's great to see that he thinks his job is really, really important. But maybe he might want to measure his words a little more carefully. Carrard will be judged by results. His work in dealing with the IOC Salt Lake City scandal won him praise and that's what matters. In the meantime, what he thinks is "plain talking" ranges from the offensive to the ignorant.
All it does is damage what's left of FIFA's credibility. You'd think a guy who believes that the survival of the game depends on the survival of FIFA would know better.
Let's hope it's just a footnote we can ascribe to a "colorful character."
Gabriele Marcotti is a senior writer for ESPN FC. Follow him on Twitter @Marcotti.