Premier League weekend review: Mohamed Salah's rocket steels Liverpool
Nick Miller recaps another wild weekend in the Premier League, as Mohamed Salah ensured Liverpool held their nerve, but Chris Hughton's Brighton lost theirs.
Jump to: Raheem's brilliance | Ole 'got away with it' | Fredericks the klutz | Bravo ugly Toon | Team of the Week | Saints hit the jackpot | Not so Brighton
Goal of the weekend
There was a the briefest fraction of a second where Kepa Arrizabalaga might have thought he could get to Mohamed Salah's rocket, but then the ball seemed to swerve late and enough to give him no chance.
Salah still occasionally shows signs that he's trying too hard to score, but if that's what comes of those efforts then nobody will complain.
Performances of the weekend
If Jurgen Klopp needs an example for his Liverpool players of how not to play in the title run-in, he only need show them the 10 minutes or so after Salah's remarkable goal gave them a 2-0 win over Chelsea. In that time Roberto Firmino attempted a rabona and the whole team had seemingly decided they were finished with defending for the day. Eden Hazard should have scored twice and they had the air of a team who assumed another three points were in the bag.
The good news for Klopp is that if he wants an example of exactly how to play, he's got the rest of the second-half. Liverpool were terrific in dispatching Chelsea, inventive and incisive before and up to their two brilliant goals, and after that brief wobble they shut the game down nicely.
Everyone at Anfield seems to be acutely aware of 2014, Klopp making reference to a "slip" (in this case one from Andy Robertson that turned out not to be costly) afterwards, so they will also know the dangers of thinking beyond winning the game they're currently playing.
"The biggest challenge for us is always facing the world outside," Klopp said afterwards. "We play our game. If City lose today, and we find out five minutes before the game ... you lose your focus then. We only try to collect as many points as possible."
If Liverpool win all their remaining games they'll finish on 97 points. Only once in a 38-game season would that not have been enough to take top spot, and that was last year. In short, if they don't win the title, in all likelihood it won't be down to any deficiencies on their part.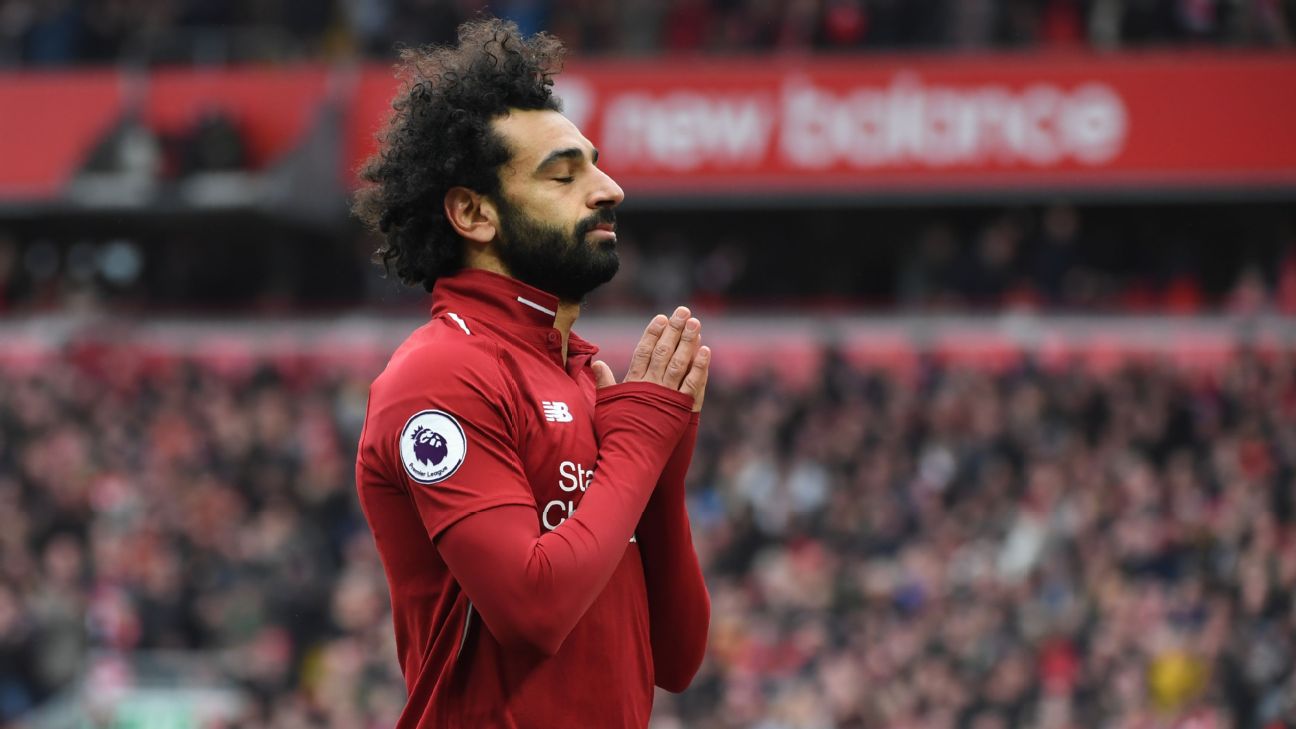 Player of the weekend
Thought Raheem Sterling had gone a bit quiet, did you? Sterling's first Manchester City goals for a month just acted as a gentle reminder of just how brilliant he's been this season. That's 17 for Sterling now -- throw in his nine assists and he's been directly involved with more goals than anyone except Hazard.
Admission of the weekend
"They played better than us, I don't think anyone will disagree with me."
Ole Gunnar Solskjaer's assessment of his team's performance in the 2-1 win over West Ham was honest, but it did draw attention to the fact Manchester United haven't really played well for some time.
When was the last time they did? Maybe the away leg against Paris Saint-Germain, but that was such a freak of a game it's tough to place it into any sort of pattern. They showed character to come back twice against Southampton and did a job in holding off Liverpool, but you probably have to go back as far as the FA Cup win at Chelsea for the last genuinely convincing all-round performance, and that was nearly two months ago.
"We got away with it," continued Solskjaer.
That won't happen many more times, and given those performances and the form of those around them, United now look like outsiders to nab a Champions League place.
Klutz of the weekend
It's been a frustrating first season at West Ham for Ryan Fredericks, injuries having kept him out for long spells since his switch from Fulham last summer. And then when he does get a chance in the side, he commits careless errors, like clumsily upending Anthony Martial to concede a second penalty and throw away a chance for a heartening point.
Still, at least he can take solace in the fact that he's no longer at Fulham.
Result of the weekend
When you're a fan of a struggling team, there's little more satisfying than a hard-fought, ugly 1-0 away win. Newcastle got that against Leicester on Friday, Ayoze Perez's header basically ensuring their safety.
It's worth noting that Perez cost £1.5 million from Tenerife five years ago, something that sums up the parsimony at St James's Park and highlights what a brilliant job Rafa Benitez has done, once again, to keep them in the top flight.
That parsimony needs to change if they are to achieve anything at all, but more immediately if they are to keep Benitez.
Team of the week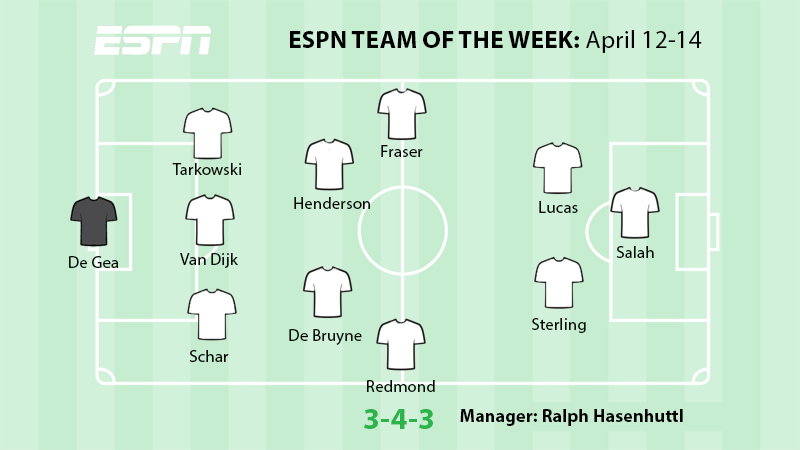 Manager of the weekend
It's a point that's been made before in this column, but it's worth reiterating that Southampton were below Huddersfield when Ralph Hasenhuttl arrived at the club.
After the 3-1 win over Wolves they're now home free having collected 27 points from 19 games. Following a couple of unwise appointments, the Saints have hit the jackpot with the Austrian.
Crisis of the weekend
A 5-0 home defeat is not ideal at the best of times, but when it's against a side who had won one of their previous nine, had lost 11 of their last 12 away games and whose manager confessed last week that his side was suffering from an identity crisis, you know things are going wrong.
Brighton are in trouble, and while they're five points clear of the drop, that could become two in a hurry because they face Cardiff on Tuesday, the third bottom side. On this form, Chris Hughton will need either magic or hypnotism to lift them back to acceptable, never mind their best.
They cannot lose on Tuesday, if only because their last five games are ... tough: Wolves (a), Tottenham (a), Newcastle (h), Arsenal (a), Manchester City (h).
How many points could you see them getting from that lot if they were playing well, never mind the shambles they are now?
A word too about Anthony Knockaert, who surely wins the award for most pointlessly stupid act of the Premier League season. Dale Stephens turned away in disgust just after Knockaert bafflingly launched himself at Dan Gosling's ankles. Shane Duffy watched him trudge off and flapped his arms in a baffled, non-verbal "Why?"
The score was only 2-0 at that stage. Maybe Brighton wouldn't have come back to avoid defeat, but they might at least have avoided a psychologically punishing thrashing.