The gulf between QPR and Leicester City appears wider than ever
Don't look so surprised. This time last year, QPR finished 22 points behind a rampant Leicester City in the Championship. As Nigel Pearson's side ran away with the second-tier title, Rangers hobbled over the line via a magical playoff win.
That goal by Bobby Zamora instantly erased the memories of a substandard season, one that was kept alive only by the heroics of Charlie Austin and his relentless flow of goals. This season has been no different, although Leicester took a little while to get out of the traps and Pearson threw a few curveballs at the media. But when you examine both sides, they have really stayed true to form.
Not once did Leicester waver on the pitch. In the boardroom there was well-publicised confusion over Pearson's status as manager, but in a footballing sense the Foxes have never deviated from their style. Their belief, rightly buoyant from their stellar Championship tilt, seems to have been steady and they are now reaping the rewards.
Way back in December 2013, Pearson's side came to Loftus Road and secured another clean sheet while Joey Barton got sent off and Jamie Vardy, selected for England duty this week in a fantastic story for the one-time non-league footballer, got the deciding goal. And the 1-0 scoreline was repeated in the reverse fixture back in April of 2014, same narrative; QPR had a man sent off, Benoit Assou-Ekotto this time, and David Nugent did his job by converting the winning goal.

Leicester City
Queens Park Rangers
Game Details
Incredibly, Rangers have had the most recent laugh by winning the last fixture between these sides, the 3-2 festival in West London back in November where rarities like an own goal and an Armand Traore appearance added to the mystery and intrigue around the match, like an old footballing wives' tale: The One Where QPR Once Beat Leicester.
Despite that 22-point advantage and the two ruthlessly efficient 1-0 wins last season, Leicester were supposed to be relegated this time round and QPR should have stayed up. Little old Leicester tenderly augmented their squad with moves for Leonardo Ulloa and Andrej Kramaric and the shrewd signing of veteran Esteban Cambiasso, while Rangers tried and failed to mirror them with the likes of Leroy Fer, Sandro and Niko Kranjcar joining.
But sadly, as is often the way at Loftus Road, while Leicester's new faces settled in and knuckled down, Rangers' recruits floundered. Both clubs have a former non-league striker in the next England squad -- Austin for the Rs and Vardy for the Foxes. Austin bulldozed his way in single-handedly with 17 Premier League goals and a handful of assists in an often-woeful side, while Vardy has struck just four times in the league -- miserly by comparison -- but his strengths have been highlighted because he has been playing in a cohesive and functioning team and structure that Austin could have only dreamed about.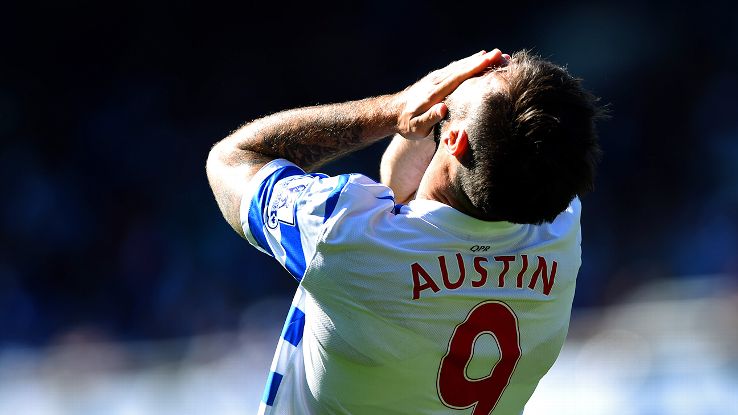 Even Robert Huth, who appeared spent in his final days at Stoke, has been a magnificent loan signing for Leicester. At 30 years old he is no spring chicken but somehow, someway, he has gone into Leicester and been an instant success. For whatever reason, if he had made exactly the same move to QPR, you just know it would have somehow ended in disaster with a long-term injury, a public spat or a discrepancy with the Home Office -- it's just the Rangers way.
That 22-point gap doesn't mean much now. If QPR win on Sunday there will be just five points separating the two sides. But one is facing another relegation to the hotly contested Championship with the added burden of a back-breaking fine from the Football League financial fair play team while the other is set for a period of consolidation in the richest league in town with a fresh windfall from broadcast rights that could cop them £120 million.
Pearson has taken on the media and won, winning over those who doubted him and vanquishing those who challenged him. Meanwhile Rangers have bravely given novice head coach Chris Ramsey a three-year contract for a rebuilding job of titanic proportions.
How did it get to this? When were little old Leicester building their empire? What were QPR doing while the Midlands minnows were laying foundations? Where did those 22 points come from? How will QPR ever get back to the Premier League? Will QPR ever get back to the Premier League? Those are all questions we have a long, long, ever-so-long summer to mull over.
Wally Downes Jr. is a reporter for Hayters sports agency in London and a contributor to ESPN FC. Follow him on Twitter @WallyDownes_Jr.