Mourinho must help out-of-form Pogba get back to his best
Paul Pogba is having his most difficult time at Manchester United since he rejoined the club in 2016. Ineffective against Tottenham on Jan. 31, the French international was substituted after just over an hour, then dropped to the bench three days later as Scott McTominay started vs. Huddersfield at Old Trafford.
Sunday saw Pogba back in the line-up but things did not go well. He lost possession four times in the opening 11 minutes and mistimed a header, then appeared to settle thereafter and made several successful passes. However, he was on his game for only a short time and struggled to get into the match.
Pogba's day ended shortly after he was one of two United players left static as an incoming free kick led to the goal that gave Newcastle their first win over United in 10 games, to the dismay of those travelling north from Manchester.
"I remember clearly without television but just with my memory from the touchline a Newcastle player jumping and two of my players looking at him and staying on the floor," said Jose Mourinho after the game, which extended his record of never winning at St. James' Park.
One of the men in question was Pogba, who was replaced by Michael Carrick within a minute of Matt Ritchie's strike. The United midfielder looked floored to be substituted and unable to help his team win the game; that's the reason he was signed, after all. Pogba later limped out of the stadium, though Mourinho denied he was injured.
The 24-year-old has had a decent season and United miss him when he's absent -- a two-month injury layoff, as well as December's Manchester derby were cases in point -- but he's going through a sticky patch as debate once again focuses around his best position.
Outwardly, Pogba is all confidence, but he's also human. He's eccentric rather than egotistical; polite rather than pompous. Those who know him well hoped he wouldn't be engulfed by the pressure of his £89.3 million transfer fee and he wasn't during his first year back in England.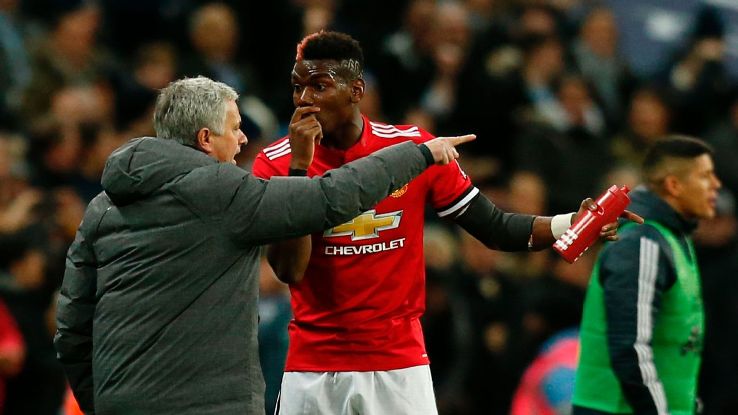 The forecast looked better for 2017-18: He would have the benefit of a full preseason and, thanks to Neymar, Pogba no longer has the title of "planet's costliest player." He would also have Nemanja Matic behind him and close friend Romelu Lukaku up front.
The form of both men has been solid enough, though they're not as consistent as many of the men in blue across Manchester and that's why there's a hideous, widening gap -- 16 points at present -- between City and United. However, they're also in their first season at a new club.
But while they have also enjoyed up and endured downs, Pogba's name dominates the conversation as he struggles for his best form. Gary Neville, another outwardly confident and successful player, recalls going through a similarly rough spell as a player, which coincided with a home game against Real Madrid.
"I was going through a terrible period with confidence and felt like I didn't want the ball," Neville told me last week. "I remember being on the pitch thinking: 'This is a low moment for me.' I was 25 and had never felt like that before."
Every player has such moments; it's how they come back from them that matters. Mourinho is a tough master, but he's a fair one, even if players don't always see it at the time. Those considered surplus to requirements get a second and third chance if they give their all, but there is a limit, as proved by the example of Henrikh Mkhitaryan.
Mourinho needs to help his No. 6. Amid comments that he's being used in the wrong position and further constructive criticism from Graeme Souness -- a three-time European Cup winning central midfielder, no less -- that Pogba is far from being top-class, Mourinho reiterates only that his player is a "midfielder."
Nobody doubts that, but what type of midfielder? Pogba looked uncomfortable as part of a defensive two in the 4-2-3-1 system that failed at Tottenham and Newcastle. In a deeper role, he drifted out of position and has been overrun by opposing midfields.
Mourinho has rightly rewarded Jesse Lingard with an attacking central role after his purple patch in December and January, but Pogba is surely better used further forward; he certainly was at Juventus, where his reputation and value spiraled, and showed similar form when surging at Everton on New Year's Day.
His situation is a microcosm of a wider issue: United should be looking for a settled line-up after 20 months under Mourinho, yet there are doubts about where too many players will play. Though more was needed from him, Pogba wasn't the only culpable player at Newcastle and the defence missed Eric Bailly.
Since Zlatan Ibrahimovic suffered a serious knee and Wayne Rooney left the club, Pogba is the main man in the United dressing room. It helps if such an important figure has a solid understanding with the one man more important than him -- the manager -- but it is not clear that he does.
Andy Mitten is a freelance writer and the founder and editor of United We Stand. Follow him on Twitter: @AndyMitten.