Pulisic injury caps a tough but rewarding international break for new U.S. side under Berhalter
HOUSTON -- For the first time in the Gregg Berhalter era, the U.S. men's national team was knocked out of its comfort zone in Tuesday's 1-1 draw against Chile. But it didn't always happen in the manner the Americans expected.
Berhalter predicted that Chile would press the U.S., and the visitors did, relentlessly, posing the kind of test the U.S. manager hoped for. The home side was all over the place as it tried to play out of the back. There were times when the U.S. found its outlet passes and was able to break into the attack with speed. But there were also plenty of times when the passing was ragged, allowing Chile to turn up the pressure.
All of this was evident in the opening stages, which resembled a track meet in many respects. A deft pass from Gyasi Zardes put Christian Pulisic in the clear, and his composed finish put the U.S. 1-0 with the game just four minutes old. But Chile soon imposed its will on the game, in terms of both its press and its buildup play, with Arturo Vidal and Diego Valdez constantly popping up in good spots. La Roja owned the game's tempo.
- U.S. Player Ratings: Pulisic, Bradley 7/10 as Americans battle for draw
"At times I felt that we kind of played into their pressure," midfielder Cristian Roldan said. "We played a couple of small passes that really built up their pressure. I feel like we can spread the field a little bit more."
The prime example was in the run-up to Chile's equalizer in the ninth minute. The U.S. never could clear the ball completely, and after a scramble and shot deflected off a defender, the ball fell to Oscar Opazo. With Ethan Horvath over-committing himself to his right post, the ensuing shot was ripped into the U.S. goal.
In many ways, the match played out predictably. The U.S. has long struggled against such an approach, its inability to play out of pressure exposed. But Chile has long been the most adept purveyor of high pressing, at least at the international level, and Berhalter was forced to improvise. First, he dropped Roldan deeper into midfield alongside Michael Bradley to try to get closer to Valdez and Vidal. In the second half, Berhalter altered his formation to a 5-4-1 -- with the midfield four playing very narrow -- in a bid to counteract Chile's advantage in central areas and take away the marauding runs of Mauricio Isla on the right wing.
"When we tweaked things around in the second half, that gave us a little bit more control," midfielder Bradley said.
What was unexpected about the evening was the injury bug striking another prominent U.S. player. Against Ecuador on Thursday, it was Weston McKennie sustaining an ankle injury that looks set to keep him out for the rest of the season, though a recovery in time for the Gold Cup looks doable. Against Chile, it was Pulisic who went down.
The official word from U.S. Soccer was that Pulisic sustained a right quad injury, and he was pulled as a precaution in the 35th minute. But the distraught look on Pulisic's face left U.S. observers fearing the worst. It could be that in a season filled with injuries, Pulisic is facing yet another spell on the sideline.
Right after the game, Berhalter said Pulisic was in the process of getting an MRI. Of greater concern is that this is the fifth soft tissue injury Pulisic has suffered this season, though Berhalter sought to downplay the player's recent injury history.
"I'm not worried," Berhalter said of Pulisic. "You look into the why, you do an inquiry of why that's happening, and you make adjustments. He's at a top club. He's going to a top club [in Chelsea]. We have very high-level medical personnel on our side, and we'll get it right."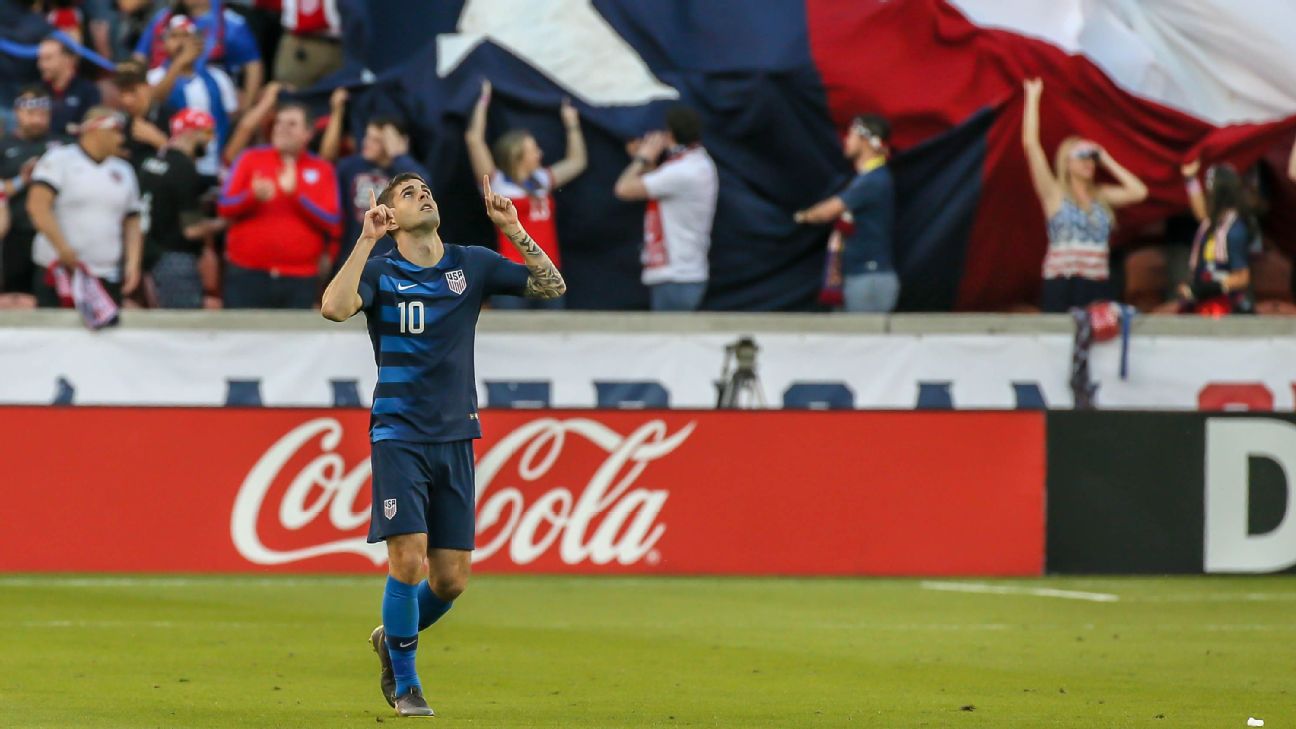 In some respects, this was a successful international break for Berhalter and the U.S. His goal of gathering more information about the player pool was achieved. The players seem to be taking to the concepts the manager is trying to impart. Bradley showed that he can still be a force in midfield, provided that there is someone by his side to provide defensive help. Zardes wasn't always as clean on the ball as he needed to be, but his assist to Pulisic showed some impressive vision and link play.
Center-backs Matt Miazga and Omar Gonzalez struggled for the first 20 minutes but then recovered. Roldan didn't generate much in attack but was able to provide some badly needed defensive stability in midfield.
The fact that the U.S. struggled at times will hopefully have long-term benefits, especially as future camps should allow the players to become more attuned to what Berhalter wants. The new coach also showed an impressive ability to adapt to the game he's in, as did the players.
"We're on the right path. There's no two ways about it," Bradley said. "We have to keep going. We have to keep working. We have to work with humility, understanding that there's still a ways to go, there are still things to improve on. But on the inside of the group, there's a good feeling. Now, it's about every time we come in, we make sure that guys come in with the right mentality, with the right attitude, with open minds, to listen, to learn, to push one another.
"If we can do that, camp after camp after camp, then you have a real chance to go somewhere."
Looked at another way, the window was downright brutal, given what it cost in injuries. At least McKennie's ailment can be chalked up as a fluke, given that it was the result of an awkward fall. As for Pulisic, his penchant for injury is a real worry for the U.S. going forward, not just in terms of his health.
In both the Ecuador and the Chile matches, the U.S. team's ability to threaten the opposition dropped considerably, reinforcing just how much the team relies on Pulisic to drive the attack. There isn't anyone else in the player pool at the moment who has his combination of dynamism and speed.
That reliance on Pulisic remains the Americans' biggest weakness. Against most teams in CONCACAF, it's something they should be able to overcome. But at the Gold Cup against the likes of Costa Rica and Mexico, it will likely prove fatal.
For now, Berhalter can only hope that his injured duo heal quickly and he has his full complement of players when June rolls around.