Forget VAR: Meet Mexico's GoPro referee, taking video technology on to the pitch
Referee Jesus Javier Vera has started recording his games in Mexico's amateur leagues with a head-mounted camera, and the professional game could learn from his experiences...
The Toe Poke Daily is here every day to bring you all the weirdest stories, quirkiest viral content and top trolling that the internet has to offer, all in one place.
Jump to: Hazard meets Mavs' stars Doncic and Marjanovic on medical trip to Dallas
Chants telling the referee that they need glasses are at the moderate end of the spectrum when it comes to the abuse officials receive game in, game out. Even the implementation of VAR in many domestic leagues and international competitions has only served to fuel debate and increase the criticism of officials.
But how many of those shouting the insults and complaining about decisions would empathise with an official's decision-making if they could walk a mile in their shoes, or see what they have to deal with from a first-person perspective?
Part-time referee Jesus Javier Vera, a 38-year-old architect from the coastal town of Mazatlan, Sinaloa in Mexico, is looking to change that via the use of a GoPro and his own YouTube channel: "ARBITROCAM: El ojo del arbitro" ("The referee's eye").
Vera wanted to "go a little further" than simply filming games pitchside. So after buying a small camera and elastic headband, he turned up to record his first game in Mazatlan's amateur leagues last July, no doubt to the shock of the players.
The results were -- and continue to be -- unique, offering a ref's eye view of what it's like to be at the centre of the action. The channel has become a hit locally: it now has close to 70 videos -- all edited by Vera -- and almost 70,000 subscribers. It brings to life Mexico's fiercely competitive amateur soccer scene, which features some brutal challenges and angry confrontations on rural, grass-starved pitches.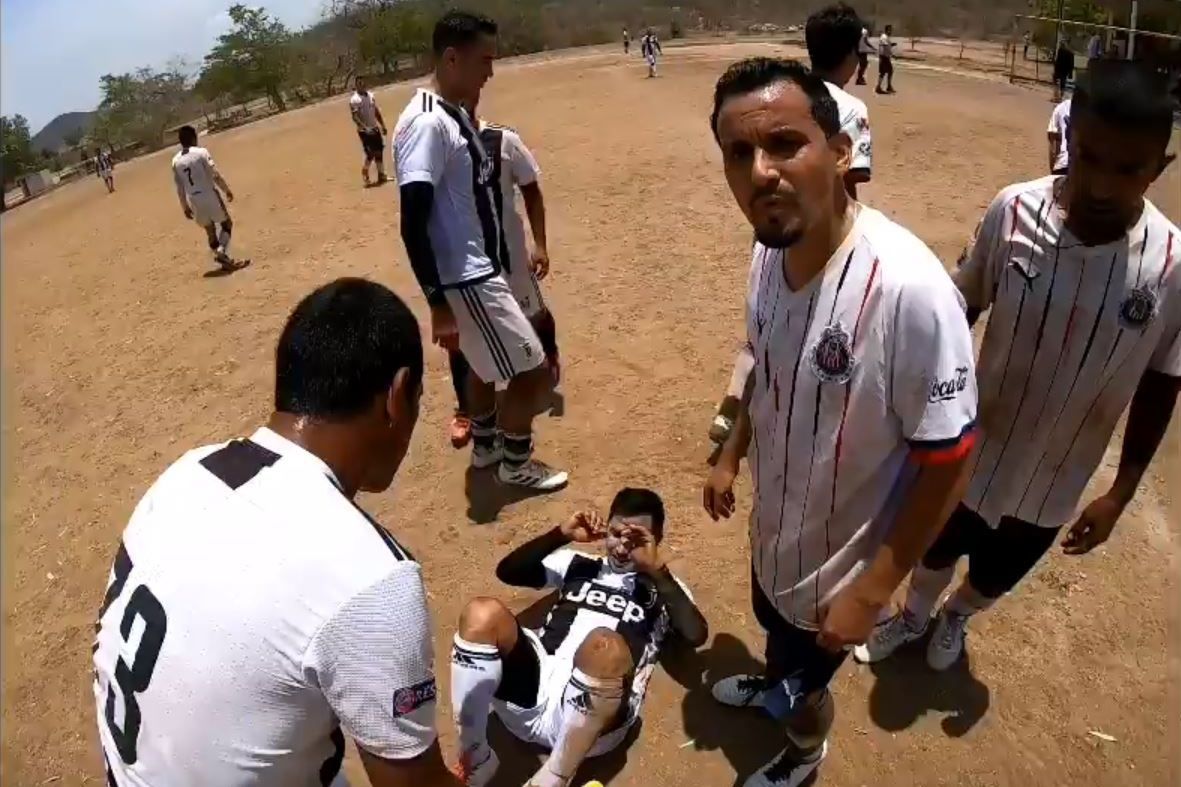 Vera has recorded fights, watched back as players have broken bones and one has even been taken to hospital with concussion. He's also been happy to publish his good decisions, as well as the bad ones, which often receive interesting responses by the local community.
But what is really fascinating -- and pretty addictive -- while watching the videos is the referee's interaction with the players and the many, many arguments (which, for Spanish speakers, may involve the odd bit of colourful language). There's even the odd veiled threat about "sorting things out" after the game.
"Above all, what gets attention are the reactions or the communication, the dialogue between the player and the ref and the fans," Vera told ESPN. "If you've seen the videos, you know I'm a ref that talks back, I'm a little head-on, I don't let the players or the coaching staff [give me stick], which is what grabs attention. I'm not the classic submissive ref that lets them swear or insult me."
Vera is certainly a strong personality, and that comes across in his videos. His catchphrase is "¡Juegale!" ("Play!") and he chirps back at the players that complain. That is part of the reason he says the videos have led to invites to referee matches as far away as Mexico City, Los Angeles and Las Vegas.
As you might expect when it comes to refereeing in amateur leagues, Vera has had his fair share of intimidating moments, but his first experience of officiating with the head-mounted camera convinced him that he was on to something with his innovation.
"The first game that I recorded [was] on a dirt field, in a dangerous neighbourhood," he said. "This was a difficult play in which I called a penalty and 95% of the people were sure it wasn't [a handball] inside the area. With the video, I showed that they were wrong."
The players, according to Vera, actually like to be videoed. He asks each team captain if he can record before the game, and if he turns up without his camera attached, the players ask him where it is.
"It's been well-received and it hasn't changed their behaviour, they often forget that I have the camera," said Vera.
And it's not just the rough-and-tumble of men's matches that Vera's "ARBITROCAM" gives us unfettered access to: one of his most popular videos (viewed well over 600,000 times) is of an under-6's game in which he has to deal with players crying after they've been fouled and pushy parents chiming in before, during and after the game.
A referee for over 20 years, Vera says being able to watch his performances back from his personal perspective has helped him improve as an official. And although he accepts that FIFA's rules on technology mean that, in theory, a ref shouldn't be bringing technology on to the pitch, he does think that it would help officiating in professional leagues.
"It would be great for two reasons: for those of us who like football a lot, it would give us a different perspective of the game," Vera explained. "And I think it'd end or reduce match-fixing because whether you like it or not this way of recording a game gives you to the intimacy of the behavior of refs and players, it would dispel many doubts."
As experiments go, Vera is pioneering something that the wider football world would do well to take seriously.
Hazard meets Mavs' stars Doncic and Marjanovic on medical trip to Dallas
.@luka7doncic 🤝 @hazardeden10 ⚽️
Plus a surprise guest crashes at the end 🤣#MFFL pic.twitter.com/Ui1vo2BXjE

— Dallas Mavericks (@dallasmavs) March 5, 2020
Eden Hazard bumped into a few familiar faces at the Dallas Mavericks training facility after flying in to undergo surgery on the ankle injury that has blighted his debut season at Real Madrid.
While milling around in reception, Hazard met Mavs star Luka Doncic, swapping jerseys with the Slovenian point guard as the latter towered imposingly above him.
The brief meeting was also crashed by Boban Marjanovic, also of the Mavs, who popped in for a quick handshake with Hazard.
The Belgian winger is set to go under the knife on Thursday, with the Mavs' chief of medical staff, Dr Eugene Curry, responsible for leading the surgery.